Fisch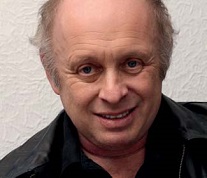 CV
1985-1987 Residency Medical Policlinic, University of Würzburg
1987-1990 Stipendium der Leukemia Society of America, Madison, Wisconsin, USA, WCCC
1990-1992 DFG scholarship, MRC Laboratory of Molecular Biology, Cambridge UK
1993-1996 Leukemia Society Special Fellow, Department of Hematology-Oncology, Medical Center - University of Freiburg
1996-1998 Heisenberg scholarship, Dept. Immunology, University of Tübingen
Since 1998 Professor (C3) of Molecular Pathology, University of Freiburg
Focus of research
NK cell biology, inhibitory and activating receptors on NK cells, role in tumor cell recognition, NK cell development, role of NK cells following hematopoietic stem cell transplantation (HCST)
Human gamma delta T cells, receptor diversity and recognition. Role and function of Vgamma9/Vdelta2 T cells, Human delta gamma T cells in breast cancer, Role of delta gamma T cells following HCST
Molecular Biology of Ig and TCR genes in molecular pathology, clonality of T cells and B-cells and spectratyping
Next generation sequencing (NGS) of Ig Genes and TCR genes from DNA and cDNA
Selected publications
Christopoulos P, Dopfer EP, Malkovsky M, Esser PR, Schaefer HE, Marx A, Kock S, Rupp N, Lorenz MR, Schwarz K, Harder J, Martin SF, Werner M, Bogdan C, Schamel WW and Fisch, P. A novel thymoma-associated immunodefi ciency with increased naive T cells and reduced CD247 expression. J Immunol. 2015; 194:3045-3053.
Bleul CC, Corbeaux T, Reuter A, Fisch P, Monting JS, Boehm T. Formation of a functional thymus initiated by a postnatal epithelial progenitor cell. Nature. 2006; 441: 992-996.
Ehl S, Schwarz K, Enders A, Duffner U, Pannicke U, Kuhr J, Mascart F, Schmitt-Graeff A, Niemeyer C, Fisch P. 2005. A variant of SCID with specifi c immune responses and predominance of gamma delta T cells. J Clin Invest. 2005; 115:3140-3148.
Handgretinger R, Geiselhart A, Moris A, Grau R, Teuffel O, Bethge W, Kanz L, Fisch P. Pure red-cell aplasia associated with clonal expansion of granular lymphocytes expressing killer-cell inhibitory receptors. N Engl J Med. 1999; 340: 278-284.
Fisch P et al. Recognition by human V gamma 9/V delta 2 T cells of a GroEL homolog on Daudi Burkitt's lymphoma cells. Science. 1990; 250:1269-1273.