Hennig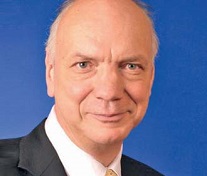 CV
1980 PhD in Physical Chemistry, University of Freiburg
1981-1983 Postdoc at the Department of Physical Chemistry, University Zürich
1983 Research fellow at the Department of Diagn. Radiology, University of Freiburg
1988 Habilitation in Medical Physics
1998 Chairman of the Section Medical Physics of the Department of Diagn. Radiology, Medical Center -  University of Freiburg
2004 Full Professor (C4) and Scientific Director of the Department of Radiology, Medical Center – University of Freiburg
Focus of research
Development of new methods and technologies in Magnetic Resonance Imaging and Spectroscopy and their application in fundamental, preclinical, translational and clinical research and clinical applications. Key areas of applications are oncology, neuroscience and neurology, cardiovascular disease, metabolic disease.
Selected publications
Mechling AE, ... Hennig J, von Elverfeldt D, Kieffer BL, Harsan LA. Deletion of the mu opioid receptor gene in mice reshapes the rewardaversion connectome. Proc Natl Acad Sci USA. 2016; 113(41):11603-11608.
Hövener JB, ...Hennig J, von Elverfeldt D. A hyperpolarized equilibrium for magnetic resonance. Nat Commun. 2013; 4:2946.
Hennig J, Welz A, Schultz G, Korvink J, Liu Z, Speck O, Zaitsev M. Parallel imaging in non-bijective, curvilinear magnetic field gradients: a concept study, Magn Reson Mater Phy. 2008; 21(1-2):5-14
Hennig J, Zhong K, Speck O. MREncephalography: Fast multi-channel monitoring of brain physiology with magnetic resonance, Neuroimage. 2007; 34(1):212-219.
Hennig J, Nauerth A, Friedburg H. RARE - Imaging : A Fast Imaging Method for Clinical MR. Magn. Reson. Med. 1986; 3(6):823-33.
Research methods
MRI: 0.23T + 1.5+ 3T + 7T
Small animal MRI: 7 and 9.4 T (Bruker Biospin, Ettlingen)
Computational Imaging