Niemeyer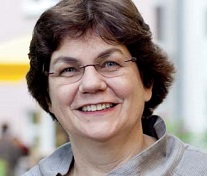 CV
1973-1980 Medical School in Kiel, Nottingham (GB), Freiburg
1980-1983 Resident in Pediatrics, Children's Hospital Kiel
1983-1988 Fellow in Medicine/ Instructor (Hematology/Oncology), Children's Hospital,  Dana-Farber Cancer Institute, Harvard Medical School, Boston, USA
1988-1990 Senior Lecturer in Pediatrics, Medical School Hannover        
Since 1990 Senior Physician, since 2001 Full Professor (C3) and Medical Director, Department of Pediatric Hematology and Oncology, Medical Center Freiburg – University of Freiburg
Focus of research
Inherited and acquired bone marrow failure disorders
Juvenile myelomonocytic leukemia (JMML) and other rare myeloproliferative neoplasia in chidlhood
Myelodysplastic syndrome and secondary leukemia in children and adolescents
Selected publications
Wlodarski MW, ... Niemeyer CM. Prevalence, clinical characteristics, and prognosis of GATA2-related myelodysplastic syndromes in children and adolescents. Blood. 2016; 127(11):1387-1397.
Strahm B, ... Niemeyer CM, Locatelli F. EWOG-MDS Study Group. Hematopoietic stem cell transplantation for advanced myelodysplastic syndrome in children: results of the EWOG-MDS 98 study. Leukemia. 2011; 25(3):455-462.
Niemeyer CM et al. Germline CBL mutations cause developmental abnormalities and predispose to juvenile myelomonocytic leukemia. Nat Genet. 2010; 42(9):794-800.
Tartaglia M, Niemeyer CM, ... Gelb BD. Somatic mutations in PTPN11 in juvenile myelomonocytic leukemia, myelodysplastic syndromes and acute myeloid leukemia. Nat Genet. 2003; 34(2):148-50.
Research methods
Sequencing platform Illumina Miseq (120k)