Roussa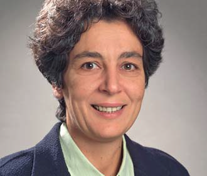 CV
1977-1982 Studies of dentistry
1985-2000 University of Saarland
1988 Doctorate of dentistry
2000-2001 School of Biological sciences, University of Manchester, UK
2001-2007 Center for Anatomy, Department of Neuroanatomy, University of Goettingen
2002 Habilitation
Since 2007 Institute for Anatomy and Cell Biology, University of Freiburg
Since 2010 temporary professorships at the institute
Focus of research
Molecular mechanisms of animergic neuron development
Brain pH homeostasis in health and disease
pH regulation in epithelia in helath and disease
Selected publications
Schrödl-Häußel M, Theparambil SM, Deitmer JW, Roussa E. Regulation of functional expression of the electrogenic sodium bicarbonate cotransporter 1, NBCe1 (SLC4A4), in mouse astrocytes. GLIA. 2015; 63/ 1226-1239.
Oehlke O, Schlosshardt C, Feuerstein M, Roussa E. Acidosis-induced V-ATPase traffi cking in salivary ducts is initiated by cAMP/PKA/CREB pathway via regulation of Rab11b expression. International Journal of Biochemisty and Cell Biology. 2012; 44/ 1254-1265.
Roussa E, Oehlke O, Rahhal B, Heermann S, Heidrich S, Wiehle M, Krieglstein K. Transforming growth factor beta cooperates with persephin for dopaminergic phenotype induction. Stem Cells. 2008; 26/ 1683-1694.
Roussa E, Wiehle M, Dünker N, Becker-Katins S, Oehlke, O, Krieglstein K. Transforming growth factor beta is required for differentiation of mose mesencephalic progenitors into dopaminergic neurons in vitro and in vivo: ectopic induction in dorsal mesencephalon. Stem Cells. 2006; 24/ 2120-2129.
Research methods
STED Microscopy
Laser capture microdissection
Intracellular proton recordings