Stark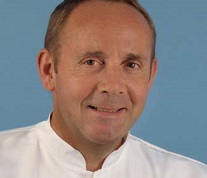 CV
1976-1982 Medical School and M.D. University of Freiburg
1982-1990 Board Qualification Surgery and Habilitation University of Bonn
1985-1986 Research Fellowship Plastic and Reconstructive Surgery University of Pittsburgh/USA
1989-1990 Residency in Plastic Surgery, Tulane University, New Orleans/USA
1990-1993 Attending of Department for Plastic-, Hand- and Reconstructive Surgery Center for Severe Burns Cologne
1994 Head of Division Plastic and Hand Surgery, Medical Center – University of Freiburg
Since 1998 Medical Director
Since 2002 Full Professorship (C4)
Focus of research
Reconstructive Microsurgery
Tissue Regeneration und Tissue Engineering
Aesthetic Surgery
Selected publications
Braig N, Nero TL, Koch HG, Kaiser B, Wang X, Thiele JR, Morton CJ, Zeller J, Kiefer J, Potempa LA, Mellett NA, Miles LA, Du XJ, Meikle PJ, Huber-Lang M, Stark GB, Parker MW, Peter K, Eisenhardt SU. Transitional changes in the CRP structure lead to the exposure of proinfl ammatory binding sites. Nat Commun. 2017; 8:14188.
Strassburg S, Nienhueser H, Stark GB, Finkenzeller G, Torio-Padron N. Co-culture of adipose-derived stem cells and endothelial cells in fi brin induces angiogenesis and vasculogenesis in a chorioallantoic membrande model. J Tissue Eng Regen M. 2016; 10(6):496-506.
Grabin S, Antes G, Stark GB, Motschall E, Buroh S, Lampert FM: Cell-assisted lipotransfer. Dtsch Arztebl Int. 2015; 112(15):255-261.
Finkenzeller G, Stark GB, Strassburg S: Growth differentiation factor 11 supports migration and sprouting of endothelial progenitor cells. J Surg Res. 2015; 198(1):50-56.
Iblher N, Gladilin E, Stark GB. Soft-tissue mobility of the lower face depending on positional changes and age: a threedimensional morphometric surface analysis. Plast Reconstr Surg. 2013; 13 (2):372-381.