Wetterauer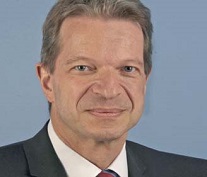 CV
1951 born in Stuttgart
Studies in Tübingen and Freiburg
1986 Habilitation in Freiburg                        
1988 Period of research, University of California, San Francisco (Prof. E.A. Tanagho)
Since 2001 Medical Director, Department of Urology, Medical Center – University of Freiburg
Selected publications
Leiber C, Wetterauer U. The Cigarette and the Sperm: A Fatal Liason? Eur Urol. 2016; 70(4):646-647.
Wolff J, McCrone P, Auber G, Fiedler P, Patel A, Wetterauer U. Where, when and what? A time study of surgeons`work in urology. PloS One. 2014; 9(3):e92979. Doi: 10.1371/journal.pone.0092979.
Elsässer-Beile U, Wolf P, Gierschner D, Bühler P, Schultze-Seemann W, Wetterauer U. A new generation of monoclonal and recombinant antibodies against cell-adherent prostate specific membrane antigen for diagnostic and therapeutic targeting of prostate cancer. Prostate. 2006; 66(13):1359-70.
Elsässer-Beile U, Rindsfüser M, Grussenmeyer T, Schultze-Seemann W, Wetterauer U. Enhanced expression of IFN-gamma mRNA in CD4(+)or CD8(+)tumour-infi ltrating lymphocytes compared to peripheral lymphocytes in patients with renal cell cancer. Br J Cancer. 2000; 83(5):637-41.
Stief CG, Wetterauer U. Erectile responses to intracavernous papverine and phentolamine: comparison of single and combined delivery. J Urol. 1988; 140(6):1415-6.