Anna Köttgen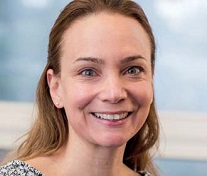 Prof. Dr.
Anna Köttgen
Institute of Genetic Epidemiology
Head of Institute
Phone: 0049-761-270-78050
anna.koettgen@uniklinik-freiburg.de
www.uniklinik-freiburg.de/genetic-epidemiology.html?L=
CV
1994-2001 Medical School,  University of Freiburg, Germany
2002 Medical Dissertation, Dept. of Physiology, University of Freiburg, Germany
2005-2009 Master of Public Health, DFG Postdoctoral Fellow, Assistant Scientist, Johns Hopkins Bloomberg School of Public Health, Baltimore, MD, USA
2010-2015 Emmy Noether Research Group Leader, Div. of Nephrology, Medical Center - University of Freiburg, Germany and Adjunct Assistant Professor, Johns Hopkins University, USA
Since 2016 Heisenberg Professorship (W3), Medical Center - University of Freiburg, Germany
Since 2017 Head of Institute of Genetic Epidemiology
Focus of research
Genetic Epidemiology, focus on complex renal and metabolic diseases
Metabolomics: focus on identification of membrane transport proteins and enzymes
Epidemiological study design and data analysis
Participation and leadership role in international genetics consortia
Selected publications
Sekula P, ... Köttgen A. A Metabolome-Wide Association Study of Kidney Function and Disease in the General Population. J Am Soc Nephrol. 2016; Apr;27(4):1175-88.
Köttgen A et al. Genome-wide association analyses identify 18 new loci associated with serum urate concentrations. Nature Genetics 2013; 45(2):145-54.
Suhre K, ... Köttgen A, ... Gieger C. Human metabolic individuality in biomedical and pharmaceutical research. Nature 2011; 477(7362):54-60.
Köttgen A et al. New Loci Associated with Kidney Function and Chronic Kidney Disease. Nature Genetics 2010 ; 42(5):376-84.
Köttgen A et al. Multiple loci associated with indices of renal function and chronic kidney disease. Nature Genetics 2009; 41(6):712-717.
Research methods
[epi-] genome-wide association studies, whole exome/genome sequencing data analysis
Analysis and modeling of high-dimensional metabolomics data
Conduct and data analysis of prospective cohort studies
Pharmacogenomics