Diederichs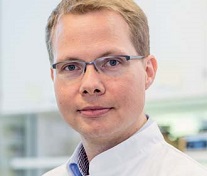 CV
2002-2004 Graduate Student, University Hospital Münster & University of Witten / Herdecke
2005-2008 Postdoctoral Fellow, Harvard Medical School / Massachusetts General Hospital Cancer Center, Boston, USA
2008-2014 Independent Junior Group Leader for "Molecular RNA Biology & Cancer", German Cancer Research Center (DKFZ), Heidelberg
Since 2015 Head of Division "RNA Biology & Cancer", German Cancer Research Center (DKFZ), Heidelberg
Since 2016 Full Professor (W3) and Head of Division "Cancer Research", Department of Thoracic Surgery, Medical Center – University of Freiburg
Focus of research
Regulation, functions & mechanisms of non-protein-coding RNAs in cancer
Genetic & epigenetic mechanisms in lung carcinogenesis
Cell migration and metastasis of lung cancer
Selected publications
Goyal A, Myacheva K, Groß M, Klingenberg M, Duran Arqué B, Diederichs S. Challenges of CRISPR/Cas9 applications for long non-coding RNA genes. Nucleic Acids Res. 2017; 45(3):e12.
Roth A, Diederichs S. Molecular biology: Rap and chirp about X inactivation. Nature. 2015; 521(7551):170-1.
Gutschner T, Hämmerle M, Eissmann M, Hsu J, Kim Y, Hung G, Revenko A, Arun G, Stentrup M, Gross M, Zörnig M, MacLeod AR, Spector DL, Diederichs S. The noncoding RNA MALAT1 is a critical regulator of the metastasis phenotype of lung cancer cells. Cancer Res. 2013; 73(3):1180-9.
Winter J, Jung S, Keller S, Gregory RI, Diederichs S. Many roads to maturity: microR NA biogenesis pathways and their regulation. Nature Cell Biology. 2009; 11(3):228-34.
Diederichs S, Haber DA. Dual role for argonautes in microRNA processing and posttranscriptional regulation of microRNA expression. Cell. 2007; 131(6):1097-1108.
Research methods
Molecular & Cellular Biology of RNA
CRISPR/Cas Libraries & Screens
Bioinformatics