Duyster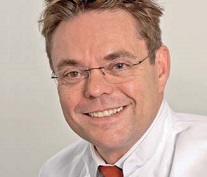 CV
1982-1989 Medical studies, University of Freiburg
2012 Chief Medical Officer and Deputy Medical Director III. Med. Department (Hematology / Oncology), Medical Center to the right of the Isar of the Technical University of Munich
2004 Professor (C3) of internal medicine and experimental hematology TU Munich
Since 2012 Full Professor (W3) and Medical Director of the Department of Medicine I, Hematology and oncology, Medical Center – University of Freiburg
Since 2013 Clinical Director of the Comprehensive Cancer Center Freiburg (CCCF)
Focus of research
Preclinical and clinical development of molecular therapies for malignant diseases
Selected publications
Müller TA, Grundler R, Istvanffy R, Rudelius M, Hennighausen L, Illert AL, Duyster J. Lineagespectific STAT 5 Target gene activation in hematopoietic progenitor cells predicts the FLT3 (+) - mediatec leukemic phenotype. Leukamia, 2016; 30 (8):1725-1733.
Klein C, Zwick A, Kissel S, Forster CU, Pfeifer D, Follo M, Illert AL, Decker S, Benkler T, Pahl H, Oostendorp RA, Aumann K, Duyster J. Ptch2 loss drives myeloproliferation and myeloprolife rative neoplasm progression., Dierks C. J Exp Med. 2016 Feb 8; 213(2):273-90.
Illert AL, Kawaguchi H, Antinozzi C, Bassermann F, Quintanilla-Martinez L, von Klitzing C, Hiwatari M, Peschel C, de Rooij DG, Morris SW, Barchi M, Duyster J. Targeted inactivation of nuclear interaction partner of ALK disrupts meiotic prophase. Development. 2012 Jul; 139(14):2523-34.
Bassermann F, von Klitzing C, Münch S, Bai RY, Kawaguchi H, Morris SW, Peschel C, Duyster J. NIPA defi nes an SCF-type mammalian E3 ligase that regulates mitotic entry. Cell. 2005; 122(1):45-57.
Bai RY, Koester C, Ouyang T, Hahn SA, Hammerschmidt M, Peschel C, Duyster J. SMIF, a Smad4-interacting protein that functions as a co-activator in TGFbeta signalling. Nat Cell Biol. 2002; 4(3):181-90.
Research methods
Flow Cytometer - Lighthouse Fluorescence Technology Core Facility of the Center for Translational Cell Research (ZTZ)
BD LSR Fortessa Messtand
Center for Translational Cell Research (ZTZ)
Spectral Analyzer (ZTZ)