Eder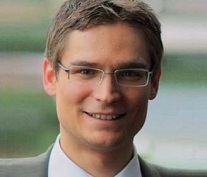 CV
2006-2009 Doctoral thesis, University of Heidelberg and German Cancer Research Center Heidelberg
2009-2012 German Cancer Research Center, Heidelberg, postdoc
2013-2015 Group leader "Radiopharmaceutical Sciences" in the Division Radiopharmaceutical Chemistry, German Cancer Research Center Heidelberg
2015-2017 Research Group in the Clinical Cooperation Unit Nuclear Medicine, German Cancer Research Center Heidelberg and University Hospital, Heidelberg
Since 2017 Full Professor (W3) of Radiopharmaceutical Development, Medical Center – University of Freiburg/ DKTK
Focus of research
Translational radiopharmaceutical sciences
Development of novel radiopharmaceuticals for the diagnosis and therapy in Nuclear Medicine 
Theranostics
Selected publications
Kratochwil C, ... Eder M, Kopka K, Haberkorn U. PSMA-Targeted Radionuclide Therapy of Metastatic Castration-Resistant Prostate Cancer with 177Lu-Labeled PSMA-617. J Nucl Med. 2016; 57:1170-6.
Benesova M, ... Eder M. Linker Modification Strategies to Control the Prostate-Specifc Membrane Antigen (PSMA)-Targeting and Pharmacokinetic Properties of DOTAConjugated PSMA Inhibitors. Journal of Medicinal Chemistry. 2016; 59:1761-75.
Benesova M, ... Eder M. Preclinical Evaluation of a Tailor-Made DOTA-Conjugated PSMA Inhibitor with Optimized Linker Moiety for Imaging and Endoradiotherapy of Prostate Cancer. Journal of Nuclear Medicine 2015; 56:914-20.
Afshar-Oromieh A, ... Eder M, ... Haberkorn U. The diagnostic value of PET/CT imaging with the Galabelled PSMA ligand HBED-CC in the diagnosis of recurrent prostate cancer. Eur J Nucl Med Mol Imaging 2015; 42:197-209.
Eder et al. 68Ga-complex lipophilicity and the targeting property of a urea-based PSMA inhibitor for PET imaging. Bioconjug Chem. 2012; 23(4):688-97.
Research methods
Biotechnological methods for the development of novel radiopharmaceuticals in nuclear medicine