Eisenhardt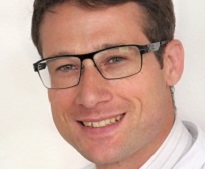 CV
1998-2005 Medical Studies, University of Freiburg
2005-2007 Postdoc, Baker Heart and Diabetes Institute, Melbourne, Australia
2008-2014 Residency, Plastics surgery and Hand surgery
2014 Associate Professor and Consultant Plastic Surgeon, Department of Plastic Surgery, Medical Center - University of Freiburg
Since 2017 Full Professor (W3- Heisenberg Professorship), Head, Section of Reconstructive Microsurgery
Focus of Research
Innate Immunity, Innate Memory
Immunology of allotransplant rejection
"Liquid biopsy" and tumormarkers in soft tissue sarcomas
Selected publications
Braig D, Nero TL, Koch HG, Kaiser B, Wang X, Thiele JR, Morton CJ, Zeller J, Kiefer J, Potempa LA, Mellett NA, Miles LA, Du XJ, Meikle PJ, Huber-Lang M, Stark GB, Parker MW, Peter K, Eisenhardt SU. Transitional changes in the CRP structure lead to the exposure of proinflammatory binding sites. Nat Commun. 2017; 8:14188.
Eisenhardt SU, Weiss JB, Smolka C, Maxeiner J, Pankratz F, Bemtgen X, Kustermann M, Thiele JR, Schmidt Y, Bjoern Stark G, Moser M, Bode C, Grundmann S. MicroRNA-155 aggravates ischemia-reperfusion injury by modulation of inflammatory cell recruitment and the respiratory oxidative burst. Basic Res Cardiol. 2015; 110(3):32.
Fricke A, Ullrich PV, Heinz J, Pfeifer D, Scholber J, Herget GW, Hauschild O, Bronsert P, Stark GB, Bannasch H, Eisenhardt SU*, Braig D*. Identification of a blood-borne miRNA signature of synovial sarcoma. Mol Cancer. 2015; 14:151.
Thiele JR, Habersberger J, Braig D, Schmidt Y, Goerendt K, Maurer V, Bannasch H, Scheichl A, Woollard KJ, von Dobschütz E, Kolodgie F, Virmani R, Stark GB, Peter K, Eisenhardt SU. Dissociation of pentameric to monomeric C-reactive protein localizes and aggravates inflammation: in vivo proof of a powerful proinflammatory mechanism and a new anti-inflammatory strategy. Circulation. 2014; 130(1):35-50.
Eisenhardt SU, Habersberger J, Murphy A, Chen YC, Woollard KJ, Bassler N, Qian H, von Zur Muhlen C, Hagemeyer CE, Ahrens I, Chin-Dusting J, Bobik A, Peter K. Dissociation of pentameric to monomeric C-reactive protein on activated platelets localizes inflammation to atherosclerotic plaques. Circ Res. 2009; 105(2):128-37.
Research methods
Intravital Imaging
Ex vivo flow-chamber circulation assays
Allotransplantation models