Fakler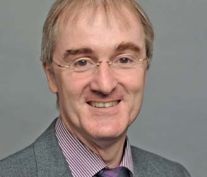 CV
1993-1998 Postdoc at the MPI for Medical Research Heidelberg and ENT-Hospital of the University of Tübingen (Sensory Biophysics)
1998-2001 Assistant Professor at the Institute of Physiology, Leader of a research group, University of Tübingen
1998 Sabbatical at the Vollum Institute for Advanced Biomedical Research, Portland, OR, USA
Since 2001 Full Professor (C4) and Director of Department of Physiology II, University of Freiburg
Since 2007 Coordinator of the SFB 746 (Functional specificity by coupling and modification of protein), University of Freiburg
Focus of research
Organization and operation of fast signal transduction at the plasma membrane
Proteomic analysis of membrane proteins and protein assemblies
Structure-function analysis of ion channels and G-protein coupled receptors
Selected publications
Boudkkazi S, Brechet A, Schwenk J, Fakler B. Cornichon2 dictates the time course of excitatory transmission at individual hippocampal synapses. Neuron. 2014; 82(4):848-858.
Schwenk J, Metz M, Zolles G, Turecek R, Fritzius T, Bildl W, Tarusawa E, Kulik A, Unger A, Ivankova K, Seddik R, Tiao JY, Rajalu M, Trojanova J, Rohde V, Gassmann M, Schulte U, Fakler B. Native GABA(B) receptors are heteromultimers with a family of auxiliary subunits., Bettler B. Nature. 2010; 465: 231-235.
Schwenk J, Harmel N, Zolles G, Bildl W, Kulik A, Heimrich B, Chisaka O, Jonas P, Schulte U, Fakler B, Klöcker N. Functional proteomics identify cornichon proteins as auxiliary subunits of AMPA receptors. Science. 2009; 323: 1313-1319.
Oliver D, He DZ, Klocker N, Ludwig J, Schulte U, Waldegger S, Ruppersberg JP, Dallos P, Fakler B. Intracellular anions as the voltage sensor of prestin, the outer hair cell motor protein. Science. 2001; 292(5525):2340-3.
Research methods
Proteomics of membrane proteins implying biochemistry and high-resolution quantitative mass spectrometry (Nano-LC MS/MS)
Patch-clamp recordings in native tissue (brain slices) and heterologous expression systems
High-resolution fluorescence and electron microscopy