Fichtner-Feigl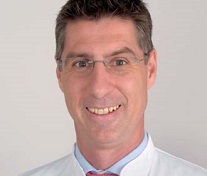 CV
2000-2002 Medical assistant, department of surgery, University Hospital Würzburg, Germany
2002-2005 Research Fellow, National Institute of Health, Bethesda, Maryland USA
2009-2014 Senior physician, department of surgery, university hospital Regensburg, Germany
2014-2016 Associate director, department of surgery, University Hospital Regensburg, Germany
Since 2016 Full Professor (W3) and Medical Director, Department of General and Visceral Surgery, Medical Center – University of Freiburg
Focus of research
Antigen-specific immune response in colon cancer and metastasis
Molecular mechanisms of microbiome and tumor cell interaction
Technical progress of minimal-invasive abdominal surgery
Selected publications
Kesselring R, ... Fichtner-Feigl S. IRAK-M Expression in Tumor Cells Supports Colorectal Cancer Progression through Reduction of Antimicrobial Defense and Stabilization of STAT3. Cancer Cell. 2016; 29(5):684-96.
Brunner SM, ... Fichtner-Feigl S. Tumorinfi ltrating interleukin-33-producing effector-memory CD8(+) T cells in resected hepatocellular carcinoma prolong patient survival. Hepatology. 2015; 61(6):1957-67.
Brunner SM, ... Schlitt HJ, Fichtner-Feigl S. Bile duct damage after cold storage of deceased donor livers predicts biliary complications after liver transplantation. J Hepatol. 2013; 58(6):1133-9.
Schnitzbauer AA, ... Schlitt HJ. Right portal vein ligation combined with in situ splitting induces rapid left lateral liver lobe hypertrophy enabling 2-staged extended right hepatic resection in small-for-size settings. Ann Surg. 2012; 255(3):405-14.
Jauch D, Martin M, Schiechl G, Kesselring R, Schlitt HJ, Geissler EK, Fichtner-Feigl S. Interleukin 21 controls tumour growth and tumour immunosurveillance in colitis-associated tumorigenesis in mice. Gut. 2011; 60(12):1678-86.
Research methods
Mouse models of malignant abdominal tumors
Isolation of tumor infiltrated lymphocytes
3 d organoid culture of malignant tumors