Groß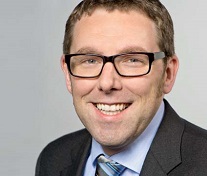 CV
1997-2003 S

tudies of biology, Technische Universität München, Dipl. Biol.

2003-2008

Dissertation research in the laboratory of Dr. Jürgen Ruland Technische Universität München, Dr. rer. nat.

2008-2012

Postdoctoral research fellow in the laboratory of Prof. Jürg Tschopp, Département de Biochimie, Université de Lausanne

2012-2017

Independent research group leader, Klinikum rechts der Isar, Technische Universität München

Since 2017

Full

Professor of Experimental Neuropathology (W3), Medical Center - University of Freiburg
Focus of research
Signalling and metabolism




Innate immunity and danger-recognition
Molecular and cellular basis of inflammation
Selected publications
Groß CJ*, Mishra R*, Schneider KS, Médard G, ... Kuster B, Ruland J, Schneider S, Perocchi F, Groß O. K+ Effl ux-Independent NLRP3 Infl ammasome Activation by Small Molecules Targeting Mitochondria. Immunity. 2016; 45(4):761-773.
Groß O*, Yazdi AS*, Thomas CJ, ... Tschopp J. Infl ammasome activators induce interleukin-1α secretion via distinct pathways with differential requirement for the protease function of caspase-1. Immunity. 2012; 36(3):388-400.
Poeck H*, Bscheider M*, Groß O*, ... Hartmann G, Hornung V, Ruland J. Recognition of RNA virus by RIG-I results in activation of CARD9 and infl ammasome signaling for interleukin-1 beta production. Nat Immunol. 2010; 11(1):63-69.
Groß O*, Poeck H*, Bscheider M, ...Tschopp J, Ruland J. Syk kinase signalling couples to the Nlrp3 infl ammasome for anti-fungal host defence. Nature. 2009; 459(7245):433-436.
Groß O, Gewies A, Finger K, ... Ruland J. Card9 controls a non-TLR signalling pathway for innate anti-fungal immunity. Nature. 2006; 442(7103):651-656.
Research methods
Models of infectious, inflammatory, and metabolic diseases

Targeted and untargeted metabolomics, metabolic flux analysis

Confocal and superresolution microscopy