Grosse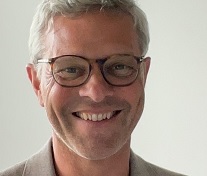 CV
1994-1999 Medical School and doctoral thesis work, Institute of Pharmacology, Freie Universität Berlin
2000-2003 Postdoctoral fellow, London Research Institute, Cancer Research UK, London, UK
2004-2009 Emmy Noether Group leader, University of Heidelberg,
2009-2018 Full professor and chair, Institute of Pharmacology, University of Marburg
Since 2019 Full professor and chair, Institute of Experimental and Clinical Pharmacology and Toxicology, University of Freiburg
Focus of research
Signalregulation of the cytoskeleton in migration and mitosis
Actin assembly in cancer cell invasion
Regulation and function of nuclear actin dynamics and nuclear organization
Selected publications
Wang Y, Sherrard A, Zhao B, Melak M, Trautwein J, Kleinschnitz E-M, Tsopoulidis N, Fackler O, Schwan C, Grosse R. GPCR-induced calcium transients trigger nuclear actin assembly for chromatin dynamics. Nat Commun 10, 5271 (2019)
Baarlink C, Plessner M, Sherrard A, Morita K, Misu S, Virant D, Kleinschnitz EM, Harniman R, Alibhai D, Baumeister S, Miyamoto K, Endesfelder U, Kaidi A, Grosse R.; A transient pool of nuclear F-actin at mitotic exit controls chromatin organization, Nat Cell Biol. 2017 Dec;19(12):1389-1399.
Wang Y, Arjonen A, Pouwels J, Ta H, Pausch P, Bange G, Engel U, Pan X, Fackler OT, Ivaska J, Grosse R.; Formin-like 2 Promotes β1-Integrin Trafficking and Invasive Motility Downstream of PKCα; Dev Cell. 2015 Aug 24;34(4):475-83.
Baarlink C, Wang H, Grosse R.; Nuclear actin network assembly by formins regulates the SRF coactivator MAL Science. 2013 May 17;340(6134):864-7.
Brandt DT, Baarlink C, Kitzing TM, Kremmer E, Ivaska J, Nollau P, Grosse R.; SCAI acts as a suppressor of cancer cell invasion through the transcriptional control of beta1-integrin. Nat Cell Biol. 2009 May;11(5):557-68.
Research methods
High resolution live cell imaging

Optogenetics of the cytoskeleton

Real time spinning disc and confocal microscopy