Grosu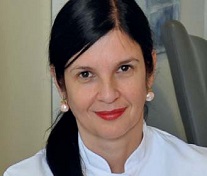 CV
1995–2000 Medical specialist training: Department of Radiation Oncology, Rechts der Isar Hospital, Technical University, Munich; 2000 Board Certification: Radiotherapy and Radiation Oncology
2000–2006 Assistant Medical Director (Oberärztin), Department of Radiation Oncology, Rechts der Isar Hospital, Technical University, Munich, Germany
2003 Habilitation (Postdoctoral lecture qualification), Department of Radiation Oncology, Rechts der Isar Hospital, Technical University, Munich: "Innovative techniques for high precision radiotherapy in brain tumors"
2006–2007 Researcher at Harvard Medical School, Massachusetts General Hospital, Department of Radiation Oncology, Proton Therapy Center, Boston, USA
Since 2007 Full Professor (W3) and Medical Director, Department of Radiation Oncology, Medical Center – University of Freiburg
Focus of research
Biological imaging for radiation therapy planning and monitoring
High precision radiation therapy
Radiation Therapy and Immunotherapy
Selected publications
Bell EH, ... Grosu AL, ... Chakravarti A. Molecular-Based Recursive Partitioning Analysis Model for Glioblastoma in the Temozolomide Era: A Correlative Analysis Based on NRG Oncology RTOG 0525. JAMA Oncol. 2017; Jan 12. doi: 10.1001/jamaoncol. 2016.6020. [Epub ahead of print].
Zamboglou C, ... Grosu AL. Comparison of 68Ga-HBED-CC PSMA-PET/CT and multiparametric MRI for gross tumour volume detection in patients with primary prostate cancer based on slice by slice comparison with histopathology. Theranostics. 2017; 7(1):228-237.
Wiedenmann NE, ... Grosu AL. Serial [18F]-fluoromisonidazole PET during radiochemotherapy for locally advanced head and neck cancer and its correlation with outcome. Radiother Oncol. 2015; 117(1):113-7.
Gaedicke S, ... Grosu AL, ... Niedermann G. Noninvasive positron emission tomography and fluorescence imaging of CD133+ tumor stem cells. Proc Natl Acad Sci USA. 2014; 111(6):E692-701.
Grosu AL et al. 11C-Choline PET/pathology image coregistration in primary localized prostate cancer. Eur J Nucl Med Mol Imaging. 2014; 41(12):2242-8.
Research methods
Radiosurgery and Stereotactic Radiation Therapy
Tomotherapy
Intraoperative Radiation Therapy