Hein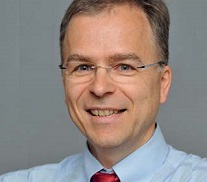 CV
1982-1988 Medical school, MD-thesis, University of Kiel, Germany
1988-1991 Residency in pharmacology, University of Kiel, Germany
1991-1996 Postdoctoral fellow and Clinical Assistant Professor, Stanford University, USA
1996-2004 Habilitation and Professor of Pharmacology, University of Würzburg, Germany
Since 2004 Full Professor (C4/ W3) of Pharmacology and Toxicology, University of Freiburg
Focus of research
Molecular mechanisms of heart failure
Cardiovascular pharmacology
Epigenetics
Selected publications
Mayer SC, Gilsbach R, ... Hein L. Adrenergic repression of the epigenetic reader MeCP2 facilitates cardiac adaptation in chronic heart failure. Circ Res. 2015; 117, 622-633.
Gilsbach R, Preissl S, Grüning BA, Schnick T, Burger L, Benes V, Würch A, Bönisch U, Günther S, Backofen R, Fleischmann BK, Schübeler D, Hein L. Dynamic DNA methylation orchestrates cardiomyocyte development, maturation and disease. Nature Communications. 2014; 5:5288.
Beetz N, ... Lohse MJ, Broeckel U, Hein L. Phosducin infl uences sympathetic activity and prevents stress-induced hypertension in humans and mice. J Clin Invest. 2009; 119, 3597-3612.
Philipp M, Brede M, Hadamek K, Gessler M, Lohse MJ, Hein L. Placental alpha2-adrenoceptors control vascular development at the interface between mother and embryo. Nature Genetics. 2002; 31, 311-315.
Hein L, Altman JD, Kobilka BK. Two functionally distinct alpha2-adrenergic receptors regulate sympathetic neurotransmission. Nature. 1999; 402, 181-184.
Research methods
Cardiovascular phenotyping of transgenic models
Fluorescence-based cell sorting
Epigenome analysis, next generation sequencing