Hellwig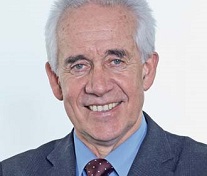 CV
1973-1978 Studies of dental medicine, University of Münster
1988 Habilitation
Since 1993 Full Professor (C4) and Medical Director of the Department of Operative Dentistry and Periodontology, Medical Center – University of Freiburg
1999-2003/ 2013-2017 Vice Dean of the Faculty of Medicine, University of Freiburg
2005-2009/ Since 2013 Head of Center for Dental Medicine, University of Freiburg
Focus of research
Cariology
Dental materials
Oral microbiology
Selected publications
Anderson AC, Jonas D, Huber I, Karygianni L, Wölber J, Hellwig E, Arweiler N, Vach K, Wittmer A, Al-Ahmad A. Enterococcus faecalis from Food, Clinical Specimens, and Oral Sites: Prevalence of Virulence Factors in Association with Biofi lm Formation. Front Microbiol. 2016; 11;6:1534.
Schulz SD, Rüppell C, Tomakidi P, Steinberg T,Reichl FX, Hellwig E, Polydorou O. Gene expression analysis of conventional and interactive human gingival cell systems exposed to dental composites. Dent Mater. 2015; 31(11):1321-34.
Proksch S, Bittermann G, Vach K, Nitschke R, Tomakidi P, Hellwig E. hMSC-Derived VEGF Release Triggers the Chemoattraction of Alveolar Osteoblasts. Stem Cells. 2015; 33(10):3114-24.
Al-Ahmad A, Bucher M, Anderson AC, Tennert C, Hellwig E, Wittmer A, Vach K, Karygianni L. Antimicrobial Photoinactivation Using Visible Light Plus Water-Filtered Infrared-A (VIS +wIRA) Alters In Situ Oral Biofi lms. PLoS One. 2015; 0;10(7):e0132107.
Anderson AC, Sanunu M, Schneider C, Clad A, Karygianni L, Hellwig E, Al-Ahmad A. Rapid,species-level identifi cation of vaginal and oral lactobacilli using MALDI-TOF MS analysis and 16S rDNA sequencing. BMC Microbiol.2014; 14;14:312.