Henneke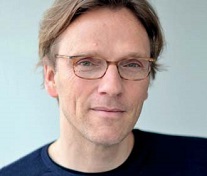 CV
1987-1994 Studies of Medicine, FU Berlin, and Imperial College, London
1994-2001 Fellow in Pediatrics at FU Berlin (Pediatrics), from 1999 at Univ. of Massachusetts Medical Center (Immunology)
2001 Assistant Professor, University of Massachusetts Medical Center and Lecturer, Harvard Medical School
2003 Assistant Professor in Pediatric Infectious Diseases, Medical Center - University of Freiburg
Since 2012 Full Professor of Infection and Immunity (W3), Head of Division of Pediatric Infectious Diseases and Rheumatology, Medical Center - University of Freiburg
Focus of research
Immunological control of streptococci and staphylococci as harmless colonizers at mucocutaneous sites. Impact of individual development on this control. This work involves animal models as well as cells from patients with immunodeficiency disorders.
Molecular interaction and signaling events between macrophages, monocytes and granulocytes and bacteria. Areas of interest are receptor-effector interactions, cellular programming and handling of bacteria. Reporter assays, confocal microscopy and live cell imaging are critical tools.
Development and differentiation of macrophage subsets in vivo
Selected publications
Elling R, Keller B, … Henneke P. Preserved effector functions of human ORAI1- and STIM1-defi cient neutrophils. J Allergy Clin Immunol. 2016; 137(5):1587-1591.
Herrtwich L, … Henneke P, Triantafyllopoulou A. DNA Damage Signaling Instructs Polyploid Macrophage Fate in Granulomas. Cell. 2016; 167(5):1264-1280.
Pannicke U*, Baumann B*, Fuchs S*, Henneke P*, … Schwarz K. Defi ciency of innate and acquired immunity caused by an IKBKB mutation. N Engl J Med. 2013; 369(26):2504-14.* Equal contribution.
Deshmukh SD, … Henneke P. Macrophages recognize streptococci through bacterial single-stranded RNA. EMBO Rep. 2011; 12(1):71-6.
Santos-Sierra S, … Henneke P. Mal connects TLR2 to PI3Kinase activation and phagocyte polarization. EMBO J. 2009; 28(14):2018-27.