Jung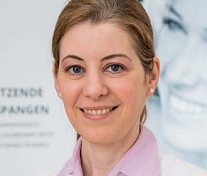 CV
2004-2006 Research Fellow, Postgraduate Training in Orthodontics, Department of Orthodontics, University of Mainz (Head: Prof. Dr. med. Dr. med. dent. H. Wehrbein)
2008-2012 Senior Physician, Department of Orthodontics, University Hospital Mainz
2011 Habilitation [post-doctoral thesis] and venia legendi [teaching licence] for the field of dentistry, oral medicine and orthodontics, University Hospital Mainz
Since 2012 Full Professor of Orthodontics (W3), Medical Center – University of Freiburg
Since 2017 Diplomate of the German Board of Orthodontics and Orofacial Orthopedics (GBO)
Focus of research
Skeletal anchorage in orthodontics
Cephalometry and growth 
Analysis of clinically, prognostically and therapeutically relevant influencing factors for palatal implants 
Basic and public health services research
Research on and development of teaching: development of IMLK Freiburg – an interactive, multimedia catalogue of learning objectives for orthodontics
Selected publications
Huelter-Hassler D, Tomakidi P, Steinberg T, Jung BA. Orthodontic strain affects the Hippopathway effector YAP concomitant with proliferation in human periodontal ligament fi broblasts. Eur J Orthod. 2017 Mar 17. doi: 10.1093/ejo/cjx012. [Epub ahead of print].
JKawa D, Kunkel M, Heuser L, Jung BA. What is the best position for palatal implants? A CBCT study on bone volume in the growing maxilla. Clin Oral Investig. 2017; 21:541-549.
Noelken R, Kunkel M, Jung BA, Wagner W. Immediate function with NobelPerfect implants in the anterior dental arch- 5-year-data Clin Implant Dent Relat Res. 2014; 16:21-31.
Jung BA, Kunkel M, Göllner P, Liechti T, Wagner W, Wehrbein H. Prognostic parameters contributing to palatal implant failures: a long-term survival analysis of 239 patients. Clin Oral Implants Res. 2012; 23:746-750.
Jung BA, Wehrbein H, Heuser L, Kunkel M. Vertical palatal bone dimensions on lateral cephalometry and cone-beam computed tomography: implications for palatal implant placement. Clin Oral Implants Res. 2011; 22:664-668.