Klugbauer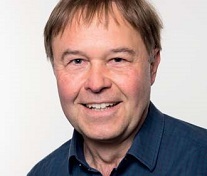 CV
1992 PhD in Microbiology at Technical University Munich
1998 Habilitation in Pharmacology and Toxicology Technical University Munich
1999 Authorization to teach pharmacology and toxicology
Since 2003 Professor (C3), Institute of Experimental and Clinical Pharmacology and Toxicology, University of Freiburg
2010 Speaker of SFB 780 "Synaptic Mechanisms of Neuronal Network Function"
Focus of research
Structure and function of voltage-gated calcium channels
Identification and characterization of interaction partners of ion channels
Structure, localization and function of two-pore channels (TPCs)
Selected publications
Sakurai Y, Kolokoltsov AA, Chen CC, Tidwell MW, Bauta WE, Klugbauer N, Grimm C, Wahl-Schott C, Biel M, Davey RA. Two-pore channels control Ebola virus host cell entry and are drug targets for disease treatment. Science. 2015; 347:995-998.
Grimm C, Holdt LM, Chen CC, Hassan S, Müller C, Jörs S, Cuny H, Kissing S, Schröder B, Butz E, Northoff B, Castonguay J, Luber CA, Moser M, Spahn S, Lüllmann-Rauch R, Fendel C, Klugbauer N, Griesbeck O, Haas A, Mann M, Bracher F, Teupser D, Saftig P, Biel M, Wahl-Schott C. High susceptibility to fatty liver disease in two-pore channel 2-defi cient mice. Nat. Commun. 2014; 5:4699.
Berkefeld H, Sailer CA, Bildl W, Rohde V, Thumfart JO, Eble S, Klugbauer N, Reisinger E, Bischofberger J, Oliver D, Knaus HG, Schulte U, Fakler B. BKCa-Cav channel complexes mediate rapid and localized Ca2+-activated K+ signaling. Science. 2006; 314, 615-620.
Klugbauer N, Lacinova L, Marais E, Hobom M, Hofmann F. Molecular diversity of the calcium channel a2d subunit subunit. J. Neuroscience. 1999; 19, 684-691.
Klugbauer N, Lacinová L, Flockerzi V, Hofmann F. Structure and functional expression of a new member of the tetrodotoxin-sensitive voltagegated sodium channel family from human neuroendocrine cells. EMBO J. 1995; 14, 1084-1090.