Krieglstein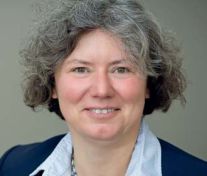 Prof. Dr.
Kerstin Krieglstein
Institute of Anatomy and Cell Biology
Department of Molecular Embryology
(leave)
CV
1998-1999 Heisenberg-Fellow (DFG) Inst Anatomy & Cell Biology, University of Heidelberg
1999-2001  Professor of Anatomy (C3), University of Saarland, Homburg/Saar
2001-2007 Full Professor of Anatomy (C4), Inst. Neuroanatomy, University of Göttingen
Since 2007 Full Professor of Anatomy (W3), Dept. Mol Embryology, Inst. Anatomy & Cell Biology, University of Freiburg (since 2014 on leave)
2014-2018 Dean of the Faculty of Medicine, University of Freiburg
Focus of research
Role of cell-extrinsic signals in nervous system development: induction and specification of neuronal phenotyps and synaptogenesis
Regulation of neuronal survival and ontogenetic cell death
TGF-β and related signalling molecules
Selected publications
Roussa E, Speer JM, Chudotvorova I, Khakipoor S, Smirnov S, Rivera C, Krieglstein K. The membrane trafficking and functionality of the K+-Cl- co-transporter KCC2 is regulated by TGF-β2. J Cell Sci. 2016; 129(18):3485-98.
Koszinowski S, Boerries M, Busch H, Krieglstein K. RARβ regulates neuronal cell death and differentiation in the avian ciliary ganglion. Dev Neurobiol. 2015; 75(11):1204-18.
Krieglstein K, Zheng F, Unsicker K, Alzheimer C. More than being protective: Functional roles for TGF-ß signaling pathways at central synapses. TINS. 2011; 34(8), 421-9.
Kunwar AJ, Rickmann M, Backofen B, Browski SM, Rosenbusch J, Schöning S, Fleischmann T, Krieglstein K, Fischer von Mollard G. Lack of the endosomal SNAREs vti1a and vti1b led to signifi cant impairments in neuronal development. Proc Natl Acad Sci U S A. 2011; 108(6), 2575-80.
Krieglstein K, Richter S, Farkas L, Schuster N, Dünker N, Oppenheim RW, Unsicker K. Reduction of endogenous transforming growth factors beta prevents ontogenetic neuron death. Nat Neurosci. 2000; 3(11):1085-90.