Lagrèze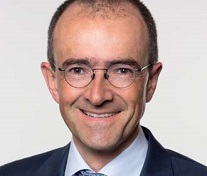 CV
1991 MD-Thesis Max Planck-Institute for Brain Research, Frankfurt, Germany
1995 Fellow, Dep. of Ophthalmology, Harvard Medical School, Boston, USA
Since 2003 Full Professor (C3) and Head of Section for Neuroophthalmology and Pediatric ophthalmology, Eye Center, Medical Center – University of Freiburg
Focus of research
Neuroophthalmology (Focus: development of neuroprotective therapies)
Pediatric ophthalmology (Focus: Myopia control and refinement of surgical techniques in infants with eye diseases)
Orbital diseases (Focus: interdisciplinary network and refinement of minimally invasive surgical techniques)
Selected publications
van Oterendorp C, Sgouris S, Schallner N, Biermann J, Lagrèze WA. Retrograde neurotrophic signaling in rat retinal ganglion cells is transmitted via the ERK5 but not the ERK1/2 pathway. Invest Ophthalmol Vis Sci. 2014; 55: 658-65.
Beazley-Long N, Hua J, Jehle T, Hulse RP, Dersch R, Lehrling C, Bevan H, Qiu Y, Lagrèze WA, Wynick D, Churchill AJ, Kehoe P, Harper SJ, Bates DO, Donaldson LF. VEGF-A165b is an endogenous neuroprotective splice isoform of vascular endothelial growth factor A in vivo and in vitro. Am J Pathol. 2013; 183:918-929.
Biermann J, van Oterendorp C, Stoykow C, Volz C, Jehle T, Boehringer D, Lagrèze WA. Evaluation of intraocular pressure elevation in a modified laser-induced glaucoma rat model. Exp Eye Res. 2012; 104:7-14.
van Oterendorp C, Sgouris S, Bach M, Martin G, Biermann J, Jordan JF, Lagrèze WA. Quantification of retrograde axonal transport in the rat optic nerve by fl uorogold spectrometry. PLoS One. 2012; 7:e38820.
Research methods
Preclincial research on retinal neuroprotection
Randomized clincial trials