Lahmann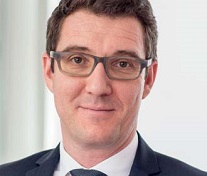 CV
1995-2002 Studies of medicine, University of Erlangen-Nuremberg
2002-2006 Residency training, University Medical Center Regensburg (internal medicine, neurology, psychiatry, psychosomatic medicine and psychotherapy)
2007-2016 senior physician / managing senior physician / executive senior physician, Department of Psychosomatic Medicine and Psychotherapy, University Medical Center, TU Munich
Since 2016 Full professor (W3) and Medical Director,  Department of Psychosomatic Medicine and Psychotherapy, Medical Center – University of Freiburg
Focus of research
Somatoform and somatopsychic disorders including psychooncology and chronic pain
Eating Disorders            
Embodiment and body psychotherapy research
 Selected publications
Probst T, Sattel H, Henningsen P, Gündel H, Lahmann C. Alexithymia as a Moderator of Treatment Outcomes in a Randomized Controlled Trial on Brief Psychodynamic Interpersonal Psychotherapy for Patients with Multisomatoform Disorder. Psychother Psychosom. 2017; 86:57-59.
Limburg K, Sattel H, Radziej K, Lahmann C. DSM-5 somatic symptom disorder in patients with vertigo and dizziness symptoms. J Psychosom Res. 2016; 91:26-32.
Lahmann C, Henningsen P, Brandt T, ... Schmid G. Psychiatric comorbidity and psychosocial impairment among patients with vertigo and dizziness. J Neurol Neurosurg Psychiatry. 2015; 86:302-8.
Sattel H, Lahmann C, Gündel H, ... Henningsen P. Brief psychodynamic interpersonal psychotherapy for patients with multisomatoform disorder: randomised controlled trial. Br J Psychiatry. 2012; 200:60-7.
Lahmann C, Nickel M, Schuster T, ... Loew T. Functional relaxation and guided imagery as complementary therapy in asthma: a randomized controlled clinical trial. Psychother Psychosom. 2009; 78:233-9.