Meyer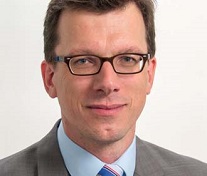 CV
1994-2000 RWTH Aachen University & University of Pennsylvania, medical studies (degree 2000), medical doctorate (2001)
2002-2005 Research Center Jülich, Institute of Medicine, postdoc
2004-2007 University of Cologne, Interdisciplinary Program Molecular Medicine (doctorate 2007)
2001-2002 / 2005-2008 University Hospitals Aachen and Leipzig, resident, Nuclear Medicine and Neurology, Nuclear Medicine board certification (2008)
Since 2008 Full Professor (W3) and Medical Director, Department of Nuclear Medicine, Medical Center - University of Freiburg
Focus of research
Molecular neuroimaging with PET und SPECT, focus on diagnosis and prognosis of neurodegenerative diseases
Preclinical and clinical development and evaluation of radiopharmaceuticals for neurological and oncological imaging and therapy (emphesis on receptor ligands)
Methods development (PET/CT and SPECT/CT, tracerkinetic quantification)
Selected publications
Jilg CA, … Meyer PT. Diagnostic Accuracy of Ga-68-HBED-CC-PSMA-Ligand-PET/CT before Salvage Lymph Node Dissection for Recurrent Prostate Cancer. Theranostics. 2017; 7:1770-80.
Stoykow C, ... Meyer PT. Gastrin-releasing Peptide Receptor Imaging in Breast Cancer Using the Receptor Antagonist 68Ga-RM2 And PET. Theranostics. 2016; 6:1641-50.
Frings L, ... Meyer PT. Asymmetries of amyloid-β burden and neuronal dysfunction are positively correlated in Alzheimer's disease. Brain. 2015; 138:3089-99.
Hellwig S, ... Meyer PT. [¹⁸F]FDG-PET is superior to [¹²³I]IBZM-SPECT for the differential diagnosis of parkinsonism. Neurology. 2012; 79:1314-22.
Meyer PT et al. Dual-biomarker imaging of regional cerebral amyloid load and neuronal activity in dementia with PET and 11C-labeled Pittsburgh compound B. J Nucl Med. 2011; 52:393-400.
Research methods
Hybrid imaging (PET/CT and SPECT/CT)
Preclinical imaging (small animal PET and CT)
Radiopharmacy (cyclotron, GMP production)