Meyer-Luehmann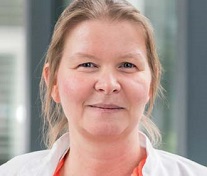 CV
1993-1999 Graduate studies of Biology, University of Freiburg
2000-2004 PhD thesis, University of Basel, Switzerland
2004-2008 Postdoctoral fellow at the Hertie Institute of Clinical Brain Research, Tübingen and Harvard Medical School, Boston, USA
2008-2011 Independent group leader at the Adolf-Butenandt-Institut, Ludwig-Maximilians-University Munich
Seit 2011 Full Professor of functional restoration in the CNS, Department of Neurology and Neuroscience (W3), Medical Center – University of Freiburg
Focus of research
Neurodegenerative Diseases
Plaque development
Neurodegeneration
Selected publications
Bachhuber T, Katzmarski N, McCarter JF, Loreth D, Tahirovic S, Kamp F, Abou-Ajram C, Nuscher B, Serrano-Pozo A, Müller A, Prinz M, Steiner H, Hyman BT, Haass C, Meyer-Luehmann M. Inhibition of amyloid-beta plaque formation by alpha-synuclein. Nat Med. 2015; 21(7):802-7.
Meyer-Luehmann M, Spires-Jones TL, Prada C,Garcia-Alloza M, de Calignon A, Rozkalne A, Koenigsknecht-Talboo J, Holtzman DM, Bacskai BJ, Hyman BT. Rapid appearance and local toxicity of amyloid-beta plaques in a mouse model of Alzheimer's disease. Nature. 2008; 451(7179):720-4.
Meyer-Luehmann M, Coomaraswamy J, Bolmont T, Kaeser S, Schaefer C, Kilger E, Neuenschwander A, Abramowski D, Frey P, Jaton AL, Vigouret JM, Paganetti P, Walsh DM, Mathews PM, Ghiso J, Staufenbiel M, Walker LC, Jucker M. Exogenous induction of cerebral beta-amyloidogenesis is governed by agent and host. Science. 2006; 313(5794):1781-4.
Meyer-Luehmann M, Stalder M, Herzig MC, Kaeser SA, Kohler E, Pfeifer M, Boncristiano S, Mathews PM, Mercken M, Abramowski D, Staufenbiel M, Jucker M. Extracellular amyloid formation and associated pathology in neural grafts. Nat Neurosci. 2003; 6(4):370-7.
Research methods
Intracerebral injections
Two-photon microscopy