Passlick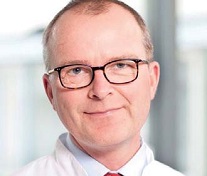 CV
1989 Harvard Medical School Boston, USA
1990 Ludwig-Maximilians-Universität, Munich
1992 Universitätsklinikum Hamburg-Eppendorf, Hamburg
1995 Ludwig-Maximilians-Universität München, Munich        
Since 2004 Full Professor of  Thoracic Surgery (C4), Medical Center – University of Freiburg
Focus of research
Surgery of metastasis
Mesothelioma
Surgical Techniques
Selected publications
Mecklenburg I, Sienel W, Schmid S, Passlick B, Kufer P. A Threshold of Systemic MAGE-A Gene Expression Predicting Survival in Resected Non-Small Cell Lung Cancer. Clin Cancer Res. 2017; 23(5):1213-1219.
Schmid S, Le UT, Haager B, Mayer O, Dietrich I, Elze M, Kemna LJ, Zissel G, Passlick B. Local Concentrations of CC-Chemokine-Ligand 18 Correlate with Tumor Size in Non-small Cell Lung Cancer and Are Elevated in Lymph Node-positive Disease. Anticancer Res. 2016; 36(9):4667-71.
Kaifi JT, Kayser G, Ruf J, Passlick B. The Diagnosis and Treatment of Bronchopulmonary Carcinoid. Deutsches Ärzteblatt Int. 2015; 112(27-28):479-85.
Osei-Agyemang T, Palade E, Haderthauer J, Ploenes T, Yaneva V, Passlick B. Pulmonary metastasectomy: an analysis of technical and oncological outcomes in 301 patients with a focus on laser resection. Zentralbl Chir. 2013; 138 Suppl 1:S45-51.
Ploenes T, Osei-Agyemang T, Krohn A, Waller CF, Duncker-Rohr V, Elze M, Passlick B. Changes in lung function after surgery for mesothelioma. Asian Cardiovasc Thorac Ann. 2013; 21(1):48-55.