Peters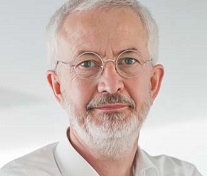 CV
1975-1983 Medical School, University of Münster and University of California, San Diego
1984-1996 Postdoc and Junior Group Leader, Center of Molecular Biology Heidelberg, Center of Biochemistry and Cell Biology, University of Göttingen
1996-1999 Associate professor of Medical Molecular Biology (C3), Department Hematology/Oncology, Medical Center - University of Freiburg
Since 1999 Full Professor of Molecular Medicine (C4) and Director of the Institute of Molecluar Medicine and Cell Research, University of Freiburg
Since 2001 Coordinator BSc and MSc Molecular Medicine
2005-2010 Dean of the Faculty of Medicine, University of Freiburg
Since 2010 Coordinator of the Collaborative Research Center 850 "Control of Cell Motility in Morphogenesis, Cancer Invasion and Metastasis" (SFB 850)
Since 2011 Dean of Studies Molecular Medicine
Since 2012 Scientific Director of the Comprehensive Cancer Center Freiburg (CCCF)
Since 2012 Coordinator of the partner site Freiburg of the German Cancer Consortium
Focus of research
In vivo functions of proteolytic enzymes
Tumor invasion and metastasis
Tumormicroenvironment and intercellular communication
Selected publications
Sevenich L, Schurigt U, Sachse K, Gajda M, Werner F, Müller S, Vasiljeva O, Schwinde A, Klemm N, Deussing J, Peters C, Reinheckel T. Synergistic antitumor effects of combined cathepsin B and cathepsin Z defi ciencies on breast cancer progression and metastasis in mice. Proc Natl Acad Sci U S A. 2010; 107(6):2497-2502.
Vasiljeva O, Papazoglou A, Kruger A, Brodoefel H, Korovin M, Deussing J, Augustin N, Nielsen BS, Almholt K, Bogyo M, Peters C, Reinheckel T. Tumor cell-derived and macrophage-derived cathepsin B promotes progression and lung metastasis of mammary cancer. Cancer Res. 2006; 66(10):5242-5250.
Nakagawa T, Roth W, Wong P, Nelson A, Farr A, Deussing J, Villadangos JA, Ploegh H, Peters C, Rudensky AY. Cathepsin L: critical role in Ii degradation and CD4 T cell selection in the thymus. Science. 1998;280(5362):450-3.
Eberle W, Sander C, Klaus W, Schmidt B, von Figura K, Peters C. The essential tyrosine of the internalization signal in lysosomal acid phosphatase is part of a beta turn. Cell. 1991; 67(6):1203-9.
Research methods
Genetically engineered mouse models
Proteomics
Bioinformatics and Systems Medicine