Prinz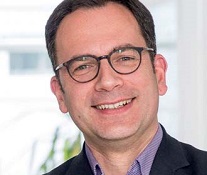 CV
1990-1996 Medical studies, Humboldt-University (Charité), Berlin
1997-1998 Postdoc, Max-Delbrück-Centre (MDC) for Molecular Medicine, Berlin in Cellular Neuroscience
1999-2002 Postdoc/Medical Doctor, Institute of Neuropathology, University of Zurich
2004 Habilitation at the Medical School of Georg-August University, Göttingen;Lecturer ("Habilitation"), Consultant ("Facharzt" and "Oberarzt") for Neuropathology at the Institute of Neuropathology, University of Göttingen
Since 2008 Full Professor (W3) and Director of the Institute of Neuropathology, Medical Center – University of Freiburg
2014 Sobek Prize
2015 Reinhart-Koselleck Grant
Since 2017 Coordinator of the SFB/TRR167 "NeuroMac"
Focus of research
Neuroimmunology

Neurodegeneration

Innate Immunity
Selected publications
Blank T, Detje CN, … Heikenwalder M, Kalinke U, Prinz M. Brain Endothelial- and Epithelial-Specifc Interferon Receptor Chain 1 Drives Virus-Induced Sickness Behavior and Cognitive Impairment. Immunity. 2016; 44(4):901-12.
Goldmann T, Wieghofer P, Jordão MJ, Prutek F, Hagemeyer N, Frenzel K, Amann L, Staszewski O, Kierdorf K, Krueger M, Locatelli G, Hochgerner H, Zeiser R, Epelman S, Geissmann F, Priller J, Rossi FM, Bechmann I, Kerschensteiner M, Linnarsson S, Jung S, Prinz M. Origin, fate and dynamics of macrophages at central nervous system interfaces. Nat Immunol. 2016; 17(7):797-805.
Erny D, Hrabě de Angelis AL, Jaitin D, … Stecher B, Amit I, Prinz M. Host microbiota constantly control maturation and function of microglia in the CNS. Nat Neurosci. 2015; 18(7):965-77.
Goldmann T, Wieghofer P, Müller PF, … Jung S*, Prinz M*. A new type of microglia gene targeting shows TAK1 to be pivotal in CNS autoimmune infl ammation. Nat Neurosci. 2013; 16(11):1618-26. *Equal contribution.
Kierdorf K, Erny D, Goldmann T, Sander V, Schulz C, … Prinz M. Microglia emerge from erythromyeloid precursors via Pu.1- and Irf8-dependent pathways. Nat Neurosci. 2013; 16(3):273-80.
Research methods
High resolution microscopy (confocal and electron microscopy 2 Photon microskopy)