Reinheckel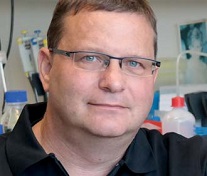 CV
1989-1996 Studies of Medicine, University of Magdeburg
1993-1994 Dept. Biochemistry and Molecular Biology; Albany Medical College, Albany N.Y
1996-1997 Internship / Residency, Dept. of General Surgery, University Hospital Magdeburg
2002-2012 Group leader; Institute of Molecular Medicine and Cell Research, University of Freiburg
Since 2013 Full Professor (W3), Institute of Molecular Medicine and Cell Research, University of Freiburg
Focus of research
Protease Functions in Health and Disease
Initiation, Progression and Metastasis of Solid Cancers
Selected publications
Ketterer S, Gomez-Auli A, Hillebrand LE, Petrera A, Ketscher A, Reinheckel T. Inherited diseases caused by mutations in cathepsin protease genes. FEBS J. 2016; Dec 7. doi: 10.1111/febs.13980.
Tholen M, Hillebrand LE, Tholen S, Sedelmeier O, Arnold SJ, Reinheckel T. Out-of-frame start codons prevent translation of truncated nucleo-cytosolic cathepsin L in vivo. Nat Commun. 2014; 5, 4931-4941.
Sevenich L, Schurigt U, Sachse K, Gajda M, Werner F, Muller S, Vasiljeva O, Schwinde A, Klemm N, Deussing J, Peters C, and Reinheckel T. Synergistic antitumor effects of combined cathepsin B and cathepsin Z defi ciencies on breast cancer progression and metastasis in mice. Proc Natl Acad Sci U S A. 2010; 107, 2497-2502.
Reiser J, Adair B, and Reinheckel T. Specialized roles for cysteine cathepsins in health and disease. J Clin Invest. 2010; 120, 3421-3431.
Stypmann J, Glaser K, Roth W, Tobin DJ, Petermann I, Matthias R, Mönnig G, Haverkamp W, Breithardt G, Schmahl W, Peters C, and Reinheckel T. Dilated cardiomyopathy in mice deficient for the lysosomal cysteine peptidase cathepsin L. Proc Natl Acad Sci U S A. 2002; 99, 6234-6239.