Riemann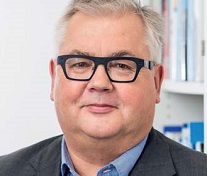 CV
1985-1986 Ph.D. candidate, Max-Planck-Institute of Psychiatry Munich
1986-1993 Post-doc, Psychiatric Clinic, Central Institute of Mental Health Mannheim
Since 1993 Professor of Clinical Psychophysiology (C3), Department of Psychiatry and Psychotherapy, Medical Center – University of Freiburg
2015 Visiting professor, Nuffield Department of Clinical Neuro-sciences, Oxford University
Since 2017 Editor in Chief of the Journal of Sleep Research
Focus of research
Insomnia
Sleep and mental disorders
Psychotherapy and pharmacotherapy of sleep disorders
Selected publications
Kuhn M, Wolf E, Maier JG, Mainberger F, Feige B, Schmid H, Bürklin J, Maywald S, Mall V, Jung NH, Reis J, Spiegelhalder K, Klöppel S, Sterr A, Riemann D, Normann C, Nissen C. Sleep recalibrates homeostatic and associative synaptic plasticity in the human cortex. Nature Communications. 2016; 7:12455.
Baglioni C, Nanovska S, Regen W, Spiegelhalder K, Feige B, Nissen C, Reynolds CF, Riemann D. Sleep and mental disorders: a meta-analysis of the last 20 years of polysomnographic research. Psychological Bulletin 2016; 142,969-990.
Wassing R, Benjamins JS, Dekker K, Moens S, Spiegelhalder K, Feige B, Riemann D, van der Sluis S, Van Der Werf YD, Talamini LM, Walker MP, Schalkwijk F, Van Someren EJ. Slow dissolving of emotional distress contributes to hyperarousal. Proc Natl Acad Sci USA. 2016; 113(9):2538-43.
Riemann D, Nissen C, Palagini L, Otte A, Perlis M, Spiegelhalder K. Neurobiology of chronic insomnia. Lancet Neurology 2015; 14,547-558.
Baglioni C, Battagliese G, Feige B, Spiegelhalder K, Nissen C, Voderholzer U, Lombardo C, Riemann D. Insomnia as a predictor of depression: a meta-analytic evaluation of longitudinal epidemiological studies. Journal of Affective Disorders 2011; 135,10-19.
Research methods
Polysomnography
Psychometrics
Neuroimaging