Schüle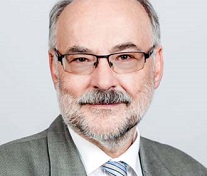 CV
1988 PhD in Genetics and Biochemistry, Max Planck Institute of Biochemistry, Martinsried
1988-1991 Postdoctoral fellow at the Salk Institute, La Jolla, USA
1991-1993 Group Leader, Preclinical Research Sandoz Ltd, Basle, Switzerland
1993-1999 Group Leader, Tumor Biology Center Freiburg
1999-2004 Associate Professor (C3), Womens Hospital, Medical Center - University of Freiburg
Since 2005 Full Professor (W3) and Director, Center for Clinical Research, Medical Center - University of Freiburg
Since 2010 Scientific Director, Dept. of Urology, Medical Center - University of Freiburg
Since 2012 Speaker CRC 992 Medical Epigenetics
Focus of research
Medical Epigenetics
Gene Regulation
Prostate Cancer
Selected publications
Duteil D, … Schüle R. Lsd1 prevents ageprogramed loss of beige adipocytes. Proc Natl Acad Sci USA. 2017; 114(20):5265-5270.
Metzger E, … Schüle R. Assembly of methylated KDM1A and CHD1 drives androgen receptor-dependent transcription and translocation. Nat Struct Mol Biol. 2016; 23(2):132-9.
Zhu D, … Schüle R. Lysine-specific demethylase 1 regulates differentiation onset and migration of trophoblast stem cells. Nat Commun. 2014; 5:3174.
Metzger E, … Schüle R. Phosphorylation of histone H3T6 by PKCbeta(I) controls demethylation at histone H3K4. Nature. 2010; 464(7289):792-6.
Metzger E, … Schüle R. LSD1 demethylates repressive histone marks to promote androgen-receptor-dependent transcription. Nature. 2005; 437(7057):436-9.
Spezielle Forschungsmethoden
Next Generation Sequencing
Proteome Analyses and Functional Epigenetics
Structure-based inhibitor development