Schwemmle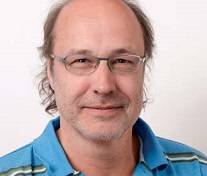 CV
1992-1994 Postdoctoral Fellow at the Institute of Virology, Medical Center – University of Freiburg
1995-1997 Postdoctoral Fellow at the Institute of Neurovirology, UC-Irvine, USA            
1997-2001 Research Associate at the Institute of Virology, Medical Center – University of Freiburg
2002-2003 Tenured Research Associate at the Institute for Virology, University of Zürich, Switzerland
Since 2003 Professor (C3) at the Institute of Virology, Medical Center - University of Freiburg
Focus of research
Zoonotic virus infections
Innate Immunity
Molecular Biology of RNA viruses
Selected publications
Moreira ÉA, Weber A, Bolte H, Kolesnikova L, Giese S, Lakdawala S, Beer M, Zimmer G, García-Sastre A, Schwemmle M, Juozapaitis M. A conserved infl uenza A virus nucleoprotein code controls specifi c viral genome packaging. Nat Commun. 2016; 7:12861.
Moreira ÉA, Locher S, Kolesnikova L, Bolte H, Aydillo T, García-Sastre A, Schwemmle M, Zimmer G. Synthetically derived bat influenza A-like viruses reveal a cell type- but not species-specifi c tropism. Proc Natl Acad Sci USA. 2016; 113:12797-12802.
Juozapaitis M, Aguiar Moreira É, Mena I, Giese S, Riegger D, Pohlmann A, Höper D, Zimmer G, Beer M, García-Sastre A, Schwemmle M. An infectious bat-derived chimeric infl uenza virus harbouring the entry machinery of an infl uenza A virus. Nat Commun. 2014; 5:4448.
Wu YJ, Schulz H, Lin CC, Saar K, Patone G, Fischer H, Hübner N, Heimrich B, Schwemmle M. Borna disease virus-induced neuronal degeneration dependent on host genetic background and prevented by soluble factors. Proc Natl Acad Sci USA. 2013; 110(5):1899-904.
Mänz B, Brunotte L, Reuther P, Schwemmle M. Adaptive mutations in NEP compensate for defective H5N1 RNA replication in cultured human cells. Nat Commun. 2012; 3:802.
Spezielle Forschungsmethoden
In vitro and in vivo infection models
Reverse genetic of Influenza viruses
Research with highly pathogenic viruses (BSL3 level)