Seufert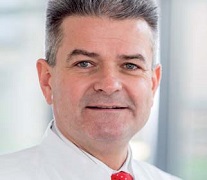 CV
1983-1989 Medical School, Universities of  Würzburg, Germany  and Innsbruck, Austria
1990-1995 Intern and Fellow in Endocrinology and Diabetology, Gastroenterology, Medizinische Poliklinik, University of Würzburg, Germany
1995-1998 Research Fellowship and Instructor, Harvard Medical School, Massachusetts General Hospital, Joslin Diabetes Center, Boston, USA
1998-2006 Fellow in Endocrinology and Diabetology, Gastroenterology Habilitation, Consultant and Head of Division of Endocrinology, Metabolism and Molecular Medicine, Medizinische Poliklinik, University of Würzburg, Germany
Since 2006 Full Professor (W3) of Internal Medicine, Head of the Division of Endocrinology and Diabetology, Medical Center – University of Freiburg
Focus of research
Molecular and cellular biology of the endocrine pancreas
Regenerative strategies for treatment of diabetes mellitus, stem cell therapy, pancreatic islet transplantation
Clinical trial unit, trials in diabetes mellitus, gestational diabetes, osteoporosis, endocrine disorders
Selected publications
Perakakis N, Triantafyllou GA, Fernández-Real JM, Huh JY, Park KH, Seufert J, Mantzoros CS. Physiology and role of irisin in glucose homeostasis. Nat Rev Endocrinol. 2017; 13(6):324-337.
Marso SP, Bain SC, Consoli A, Eliaschewitz FG, Jódar E, Leiter LA, Lingvay I, Rosenstock J, Seufert J, Warren ML et al. Semaglutide and Cardiovascular Outcomes in Patients with Type 2 Diabetes. N Engl J Med. 2016; 375(19):1834-1844.
Laubner K, Kieffer TJ, Lam NT, Niu X, Jakob F, Seufert J. Inhibition of preproinsulin gene expression by leptin induction of suppressor of cytokine signaling 3 in pancreatic beta-cells. Diabetes. 2005; 54(12):3410-7.
Seufert J, Ebert K, Müller J, Eulert J, Hendrich C, Werner E, Schuüze N, Schulz G, Kenn W, Richtmann H et al. Octreotide therapy for tumor-induced osteomalacia. N Engl J Med. 2001; 345(26):1883-8.
Seufert J, Weir GC, Habener JF. Differential expression of the insulin gene transcriptional repressor CCAAT/enhancer-binding protein beta and transactivator islet duodenum homeobox-1 in rat pancreatic beta cells during the development of diabetes mellitus. J Clin Invest. 1998; 101(11):2528-39.