Stiller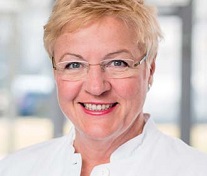 CV
1982-1988 Medical studies at the Universities of Düsseldorf and Cologne.
1988 License as a physician
1988-1993 Training in general pediatrics in Cologne
1993-1996 Cardiology training
1996-2008  Appointment as consultant in pediatric cardiology, German Heart Institute of Berlin
1998 Graduation as pediatric cardiologist
2000 Graduation in pediatric intensive care 
2004 Habilitation at the Charité Berlin, Topic: Mechanichal circulatory support in children
Since 2008 Full professor of Pediatric Cardiology (W3), University of Freiburg and  Medical Director of the Department of Congenital Heart Disease, University Heart-Center- Freiburg · Bad Krozingen
2015-2016 President and actually vice president of the German society for pediatric cardiology (DGPK)
Schwerpunkte Forschung
Adults with Congenital heart disease
The research activities focus on myocardial failure, pediatric mechanical circulatory support and heart transplantation  
Selected publications
Hummel J, Rücker G, Stiller B. Prophylactic levosimendan for the prevention of low cardiac output syndrome and mortality in children undergoing surgery for congenital heart disease. Cochrane Database Syst Rev. 2017; 3:CD011312.
Fleck TP, Dangel G, Bächle F, Benk C, Grohmann J, Kroll J, Siepe M, Höhn R, Kirschner J, Beyersdorf F, Stiller B. Long-Term Follow-Up on Health-Related Quality of Life After Mechanical Circulatory Support in Children. Pediatr Crit Care Med. 2017; 18:176-182.
Sifrim A, Hitz MP, Wilsdon A, … Stiller B, et al. Distinct genetic architectures for syndromic and nonsyndromic congenital heart defects identifi ed by exome sequencing. Nature Genetics. 2016; 48:1060-5.
Fleck T, Benk C, Klemm R, Kroll J, Siepe M, Grohmann J, Höhn R, Humburger F, Beyersdorf F, Stiller B. First serial in vivo results of mechanical circulatory support in children with a new diagonal pump. Eur J Cardiothorac Surg. 2013; 44:828-35.
Hetzer R, Stiller B. Use of ventricular assist devices in children. Nat Clin Pract Cardiovasc Med. 2006; 3:377-86.
Research methods
Cardio-MRT
Mechanical circulatory support in children