Stolz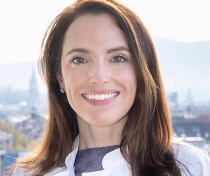 CV
1997 Graduation from Medical School of the Federal University of Rio Grande do Sul, Brazil
2006 Assistant Professor, Division of Pulmonary, Allergy and Critical Care Medicine, University of Massachusetts Medical School/University of Massachusetts Memorial Hospital, USA
2007 Assistant Professor ("Privat Dozent") for Pulmonary Medicine, Clinic for Pulmonary Medicine and Respiratory Cell Research, University Hospital Basel, Switzerland
2008 Master of Public Health, Harvard School of Public Health, Boston, USA.
2010 Research Professorship, Swiss National Foundation, Clinic for Pulmonary Medicine and Respiratory Cell Research, University Hospital Basel, Switzerland
2016 Associate Professorhip, Clinic for Pulmonary Medicine and Respiratory Cell Research, University Hospital Basel, Switzerland
Since 2021 Full Professor and Medical Director of the Department of Pneumology, Medical Center - University of Freiburg
Focus of research
Identification of mechanisms involved in the development of COPD, evaluation and characterization of disease progression and exacerbation, assessment of prognostic markers allowing risk stratification and development of novel therapeutic strategies to optimize management of COPD and associated comorbidities.
Investigation of the role of different viral infections in exacerbations of COPD and their influence on bacterial co-infection, local and systemic inflammation, airway remodeling and systemic repercussions in patients with COPD.
Histological, cellular and molecular Investigation of steroid responsiveness in chronic obstructive pulmonary disease.
Selected publications
Fang L, Li J, Papakonstantinou E, Karakioulaki M, Sun Q, Schumann D, Tamm M, Stolz D*, Roth M*. Secreted heat shock proteins control airway remodeling: Evidence from bronchial thermoplasty. J Allergy Clin Immunol. 2021 Mar 3:S0091-6749(21)00344-4.
Karakioulaki M, Koletsa T, Papakonstantinou E, Savic S, Grize L, Jahn K, Tamm M, Stolz D. Histopathological comparison of endobronchial biopsies from different pulmonary lobes of severe asthmatic patients. Chest. 2020 Apr 28:S0012-3692(20)30772-8.
Sun Q, Fang L, Roth M, Tang X, Papakonstantinou E, Zhai W, Louis R, Heinen V, Schleich F, Lu S, Savic S, Tamm M, Stolz D. Bronchial thermoplasty decreases airway remodelling by blocking epithelium-derived heat shock protein 60 (HSP60) secretion and protein arginine methyltransferase 1 (PRMT1) in fibroblasts. Eur Respir J. 2019 Aug 29. pii: 1900300.
Stolz D, Papakonstantinou E, Grize L, Schilter D, Strobel W, Louis R, Schindler C, Hirsch HH, Tamm M. Time-course of upper respiratory tract viral infection and COPD exacerbation. Eur Respir J. 2019 Oct 10;54(4):1900407.
Stolz D, Hirsch HH, Schilter D, Louis R, Rakic J, Boeck L, Papakonstantinou E, Schindler C, Grize L, Tamm M. Intensified Therapy with Inhaled Corticosteroids and Long-Acting ß2-Agonists at the Onset of Upper Respiratory Tract Infection to Prevent Chronic Obstructive Pulmonary Disease Exacerbations. A Multicenter, Randomized, Double-Blind, Placebo-controlled Trial. Am J Resp Crit Care Med. 2018 May 1;197(9):1136-1146.
Research Methods
Primary cultures of bronchial epithelial cells, airway smooth muscle cells and fibroblasts from endobronchial biopsies of patients with asthma, COPD, sarcoidosis and interstitial lung diseases.
Cell imaging for the detection of specific intracellular and extracellular proteins in primary bronchial cells. EVOS imaging system.
Detection and characterization of extracellular macromolecules such as glycosaminoglycans and proteoglycans in primary cells and tissues obtained from patients with various lung diseases.