Timmers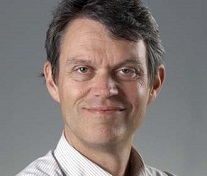 CV
1990-1992 post-doctoral fellow lab Prof. Phillip Sharp (Nobel laureate Medicine 1993), MIT, Cambridge, USA
1992-1996 Assistant professor, Medical faculty, Utrecht University, The Netherlands
1996-2000 Associate professor, Medical faculty, Utrecht University, The Netherlands
2001-2017 Full Professor of Epigenetics and Gene Regulation Utrecht University, the Netherlands
Since 2017 Full Professor of Medical Epigenetics (W3), German Cancer Consortium, Center for Clinical Research, Medical Center - University of Freiburg
Focus of research
Selected publications
Koster MJ, Snel B, Timmers HT. Genesis of chromatin and TBP dynamics in the origin of species. Cell. 2015; 161:724-36.
Dreijerink KM et al. Breast cancer predisposition in Multiple Endocrine Neoplasia type 1. NEJM. 2014; 371:583-4.
Pijnappel WW, Esch D, Baltissen MP, Wu G, Mischerikow N, Bergsma AJ, van der Wal E, Han DW, Bruch Hv, Moritz S, Lijnzaad P, Altelaar AF, Sameith K, Zaehres H, Heck AJ, Holstege FC, Schöler HR, Timmers HT. A central role for TFIID in the pluripotent transcription circuitry. Nature. 2013; 495:516-519.
van Werven FJ, van Bakel H, van Teeffelen HA, Altelaar AF, Koerkamp MG, Heck AJ, Holstege FC, Timmers HT.Cooperative action of NC2 and Mot1p to regulate TATA-binding protein function across the genome. Genes Dev. 2008; 22:2359-2369.
Vermeulen M, Mulder KW, Denissov S, Pijnappel WW, van Schaik FM, Varier RA, Baltissen MP, Stunnenberg HG, Mann M, Timmers HT.Selective anchoring of TFIID to nucleosomes by trimethylation of histone H3 lysine four. Cell. 2007; 131:58-69.
Research methods
Bioreactors for large suspension cultures
Protein chromatography systems
Mass spectrometry