Uller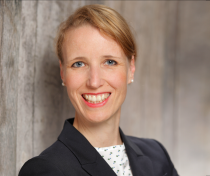 Professor
Wibke Uller
Department of Radiology
Center for Diagnostic and Therapeutic Radiology at the
Medical Center-University of Freiburg
Tel.: 0761/270-38060
CV
2012 Attending, Department of Radiology, University Hospital Regensburg, Germany
2013-2015 Research Fellow, Boston Children's Hospital and Harvard Medical School, Boston, MA, USA
2019 Senior consultant at the Institut of x-ray diagnosis at the University Hospital Regensburg
Since 2021 Full Professor for Interventional Radiology at the University of Freiburg
Focus of research
Clinical research and further development of innovative interventional techniques and therapies.
Pediatric interventional radiology.
Selected publications
Luerken L, Doppler M, Brunner SM, Schlitt HJ, Uller W. Stereotactic Percutaneous Electrochemotherapy as Primary Approach for Unresectable Large HCC at the Hepatic Hilum. Cardiovasc Intervent Radiol. 2021 Sep;44(9):1462-1466. doi: 10.1007/s00270-021-02841-1. Epub 2021 May 25. PMID: 34036404.
Hammer S, Schlitt HJ, Knoppke B, Huf VI, Wohlgemuth WA, Uller W. Sequential CT arterioportography-arteriosplenography depicts individual haemodynamic changes in children with portal hypertension without cirrhosis. Eur Radiol Exp. 2020 Dec 2;4(1):65. doi: 10.1186/s41747-020-00193-y. PMID: 33263169.
Uller W, Hammer S, Wildgruber M, Müller-Wille R, Goessmann H, Wohlgemuth WA. Radiofrequency Ablation of the Marginal Venous System in Patients with Venous Malformations. Cardiovasc Intervent Radiol. 2019 Feb;42(2):213-219. doi: 10.1007/s00270-018-2099-5. Epub 2018 Oct 29.
Wohlgemuth WA, Müller-Wille R, Teusch V, Hammer S, Wildgruber M, Uller W. Ethanolgel sclerotherapy of venous malformations improves health-related quality-of-life in adults and children - results of a prospective study. Eur Radiol. 2017 Jun;27(6):2482-2488. doi: 10.1007/s00330-016-4603-0. Epub 2016 Oct 4. PMID: 27699470.
Luks VL, Kamitaki N, Vivero MP, Uller W, Rab R, Bovée JV, Rialon KL, Guevara CJ, Alomari AI, Greene AK, Fishman SJ, Kozakewich HP, Maclellan RA, Mulliken JB, Rahbar R, Spencer SA, Trenor CC 3rd, Upton J, Zurakowski D, Perkins JA, Kirsh A, Bennett JT, Dobyns WB, Kurek KC, Warman ML, McCarroll SA, Murillo R. Lymphatic and other vascular malformative/overgrowth disorders are caused by somatic mutations in PIK3CA. J Pediatr. 2015 Apr;166(4):1048-54.e1-5. doi: 10.1016/j.jpeds.2014.12.069. Epub 2015 Feb 11. PMID: 25681199.
Research Methods