Urbach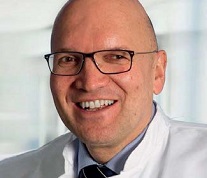 CV
1995-1996 Senior physician Dept. of Neuroradiology, Dept. of Radiology, University of Bonn
1996-1997 Senior physician Dept. of Neuroradiology, University of Würzburg
1997-1998 Senior physician Dept. of Neuroradiology, Dept. of Radiology, University of Bonn
1998-2013 Assistant medical director, Dept. of Neuroradiology, Radiology, University of Bonn
Since 2013 Full Professor (W3) and Medical Director, Department of Neuroradiology, Medical Center - University of Freiburg
Focus of research
Interventional neuroradiology
Presurgical epilepsy diagnostics
Diagnostics and therapy of stroke
Selected publications
Kellner E, Reisert M, Kiselev VG, Maurer CJ, Beume LA, Urbach H, Egger K. Automated Infarct Core Volumetry Within the Hypoperfused Tissue. Technical Implementation and Evaluation. J Comput Assist Tomo, 2016. doi:10.1097/RCT.0000000000000570.
Maurer CJ, Egger K, Dempfl e AK, Reinhard M, Meckel S, Urbach H. Facing the Time Window in Acute Ischemic Stroke. The Infarct Core. Clin Neuroradiol, 2016; 26(2):153-158.
Egger K, Hohenhaus M, Van Velthoven V, Heil S, Urbach H. Spinal diffusion tensor tractography for differentiation of intramedullary tumor-suspected lesions. Eur J Radiol, 2016; 85(12):2275-2280.
Urbach H, Mast H, Egger K, Mader I. Presurgical MR Imaging in Epilepsy. Clin Neuroradiol, 2015; 10(25) uppl. 2:151-155.
Urbach H, Rauer S, Mader I, Paus S, Wagner J, Malter MP, Pruss H, Lewerenz J, Kassubek J, Hegen H, Auer M, Deisenhammer F, Ufer F, Bien CG, Baumgartner A. Supratentorial white matter blurring associated with voltage-gated potassium channel-complex limbic encephalitis. Neuroradiology, 2015; 57(12):1203-1209.