Vogel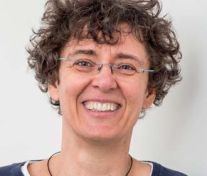 CV
1988-1997 Studies of Biochemistry, University of Hannover and PhD examination 
1997-2000 MRC Human Genetics Unit, Edinburgh, UK, Postdoctoral Fellow with Prof. H. Cooke
2000-2005 MPI Biophysical Chemistry Göttingen, Postdoctoral Fellow with Prof. P. Gruss
2005-2011 Neuroanatomy University of Göttingen, Habilitation Anatomy          
Since 2011 Professor (W2) of Anatomy, since 2016 Full Professor (W3), University of Freiburg
Since 2017 Speaker of the Research Training Group "MeInBio", University of Freiburg
Focus of research
Neurodevelopmental epigenetics: histone modifcations as determinants of neuronal differentiation
Neurodevelopmental disorders: Function of FOXG1 in controling non-coding RNAs in atypical Rett syndrome
Control of neurogenesis through extracellular TGFbeta signals
Selected publications
Roidl D, Hellbach N, Bovio P, Villarreal A, Heidrich S, Nestel S, Grüning B, Bönisch U, Vogel T. DOT1L activity promotes proliferation and protects cortical neural stem cells from activation of ATF4-DDIT3-mediated ER stress in vitro. Stem Cells. 2016; 34(1):233-45.
Backofen R, Vogel T. Biological and bioinformatical approaches to study crosstalk of longnon-coding RNAs and chromatin-modifying proteins. Cell Tissue Res. 2014; 356:507-26.
Büttner N, Johnsen SA, Kügler S, Vogel T. Af9/ Mllt3 interferes with Tbr1 expression through epigenetic modification of histone H3K79 during development of upper layers in the cerebral cortex. Proc Natl Acad Sci USA.2010; 107(15):7042-7.
Vogel T, Ahrens S, Buttner N, Krieglstein K. Transforming Growth Factor β Promotes Neuronal Cell Fate of Mouse Cortical and Hippocampal Progenitors In Vitro and In Vivo: Identification of Nedd9 as an Essential Signaling Component. Cereb Cortex. 2010; 20(3): 661-71.
Research methods
ChIP, RIP, NGS, Transcriptomics, SILAC Proteomics
CRISPR/Cas9, Lentivirus-mediated modification of gene expression
Differentiation of embryonic stem cells