Walz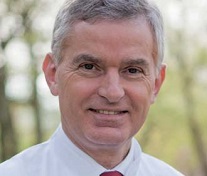 CV
1982-1987 Residency, Medicine, University Hospital Benjamin Franklin, Berlin
1987-1992 Postdoctoral Fellowship, Harvard Medical School, Boston
1992-1995 Residency & Fellowship, Medicine & Nephrology,  Beth Israel Hospital & Brigham and Women's Hospital, Harvard Medical School, Boston
1995-1999 Attending Physician, Beth Israel Hospital, Harvard Medical School, Boston
Since 1999 Full Professor of Medicine (C4) and Medical Director, Department of Medicine IV: Nephrology and Primary Care, Medical Center – University of Freiburg
Focus of research
Genetic kidney disease
Kidney Development
Kidney regeneration
Selected publications
Yasunaga T, Hoff S, Schell C, Helmstädter M, Kretz O, Kuechlin S, Yakulov TA, Engel C, Müller B, Bensch R, Ronneberger O, Huber TB, Lienkamp SS, Walz G. The polarity protein Inturned links NPHP4 to Daam1 to control the subapical actin network in multiciliated cells. J Cell Biol. 2015; 211(5):963-73.
Ong AC, Devuyst O, Knebelmann B, Walz G, ERA-EDTA Working Group for Inherited Kidney Diseases. Autosomal dominant polycystic kidney disease: the changing face of clinical management. Lancet. 2015; 385(9981): 1993-2002.
Hoff S, … Walz G, Hildebrandt F, Bergmann C, Lienkamp SS. ANKS6 is a central component of a nephronophthisis module linking NEK8 to INVS and NPHP3. Nat Genet. 2013; 45(8):951-6.
Lienkamp SS, Liu K, Karner CM, Carroll TJ, Ronneberger O, Wallingford JB, Walz G. Vertebrate kidney tubules elongate using a planar cell polarity-dependent, rosette-based mechanism of convergent extension. Nat Genet. 2012; 44(12):1382-7.
Walz G, Budde K, Mannaa M, Nürnberger J, Wanner C, Sommerer C, Kunzendorf U, Banas B, Hörl WH, Obermüller N, Arns W, Pavenstädt H, Gaedeke J, Büchert M, May C, Gschaidmeier H, Kramer S, Eckardt KU. Everolimus in patients with autosomal dominant polycystic kidney disease. N Engl J Med. 2010; 363(9):830-40.