Werner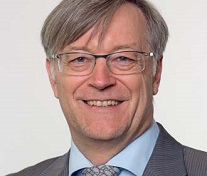 CV
1987-1996 Specialized medical training and Habilitation, Institute for Pathology, Hannover Medical School
1996-2001 Institute of Pathology, Technical University Munich, Germany, since 1997 Associate Professor (C3), and Vice Chairman
Since 2002 Full Professor (C4), Institute of Surgical Pathology, Medical Center - University of Freiburg
2012-2013 Clinical Director of the Comprehensive Cancer Center Freiburg, Germany
Since 2013 Principal investigator of the German Consortium for Translational Cancer Research (DKTK)
Focus of research
Response prediction and risk stratification of tumors
Molecular carcinogenesis and classification of solid tumors and hematological neoplasias
Selected publications
Bronsert P, Enderle-Ammour K, Bader M, Timme S, Kuehs M, Csanadi A, Kayser G, Kohler I, Bausch D, Hoeppner J, Hopt UT, Keck T, Stickeler E, Passlick B, Schilling O, Reiss CP, Vashist Y, Brabletz T, Berger J, Lotz J, Olesch J, Werner M, Wellner UF. Cancer cell invasion and EMT marker expression: a three-dimensional study of the human cancer-host interface. J Pathol. 2014; 234(3):410-22.
Fichter CD, Gudernatsch V, Przypadlo CM, Follo M, Schmidt G, Werner M, Lassmann, S. ErbB targeting inhibitors repress cell migration of esophageal squamous cell carcinoma and adenocarcinoma cells by distinct signaling pathways. Journal of Molecular Medicine. 2014; 92(11):1209-23.
Münch C, May AM, Hauschke D, Roth J, Lassmann S, Werner M. Internuclear chromosome distribution of dysplastic megakaryocytes in myelodysplastic syndromes is dependent on the level of ploidy. Chromosoma. 2011; 120(3), 265–273.
Wiech T, Nikolopoulos E, Weis R, Langer R, Bartholomé K, Timmer J, Walch AK, Höfler H, Werner M. Genome-wide analysis of genetic alterations in Barrett's adenocarcinoma using single nucleotide polymorphism arrays. Lab Invest. 2009; 89(4):385-97.
Lassmann S, Tang L, Capanu M, Brabletz T, Schöpfl in A, Zur Hausen A, Gonen M, Kemeny N, Shia J, Klimstra D, Werner M. Predictive molecular markers for colorectal cancer patients with resected liver metastasis and adjuvant chemotherapy. Gastroenterology. 2007; 133(6):1831-9.