Pfanner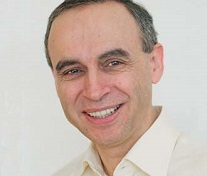 CV
1978-1984 Studies of Medicine, University of Munich
1985/86 and 1988/89 Postdoctoral/Research fellow in Munich and Princeton (USA)
1987-1992 Group Leader at the University of Munich
Since 1992 Full Professor (C4) and Director of Department  Biochemistry I, University of Freiburg
2002 Max Planck Research Award
2004 Gottfried Wilhelm Leibniz Prize
2008 Research Award of the State of Baden-Württemberg
2014 Stein & Moore Award (USA)
Focus of research
Sorting of proteins in cells
Biogenesis and architecture of cellular powerhouses (mitochondria)
Selected publications
Harbauer AB, Opalińska M, Gerbeth C, Herman JS, Rao S, Schönfi sch B, Guiard B, Schmidt O, Pfanner N*, Meisinger C*. Cell cycle-dependent regulation of mitochondrial preprotein translocase. Science. 2014; 346(6213):1109-13.
Chacinska A, Koehler CM, Milenkovic D, Lithgow T, Pfanner N. Importing mitochondrial proteins: machineries and mechanisms. Cell. 2009; 138(4):628-44.
Kutik S, Stojanovski D, Becker L, Becker T, Meinecke M, Krüger V, Prinz C, Meisinger C, Guiard B, Wagner R, Pfanner N, Wiedemann N. Dissecting membrane insertion of mitochondrial beta-barrel proteins. Cell. 2008; 132(6):1011-24.
Rehling P, Model K, Brandner K, Kovermann P, Sickmann A, Meyer HE, Kühlbrandt W, Wagner R, Truscott KN, Pfanner N. Protein insertion into the mitochondrial inner membrane by a twin-pore translocase. Science. 2003; 299(5613):1747-51.
Hill K, Model K, Ryan MT, Dietmeier K, Martin F, Wagner R, Pfanner N. Tom40 forms the hydrophilic channel of the mitochondrial import pore for preproteins. Nature. 1998; 395(6701):516-21.
Research methods
Cell-free analysis of protein transport
Characterization of isolated mitochondria