Wittwer-Backofen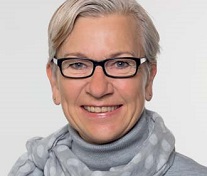 CV
1982-1990 Research Associate, Universities of Mainz and Heidelberg
1990-1999 Research Associate University of Giessen
1998 Habilitation Physical Anthropology/Human Biology, University of Giessen
1999-2002 Max Planck Institute for Demografic Research, Rostock
Since 2002 Professor (C3) of Physical Anthropology, University of Freiburg
Focus of research
Selected publications
Winchester MS, BeLue R, Oni T, Wittwer-Backofen U, Deobagkar D, Onya H, Samuels TA, Matthews SA, Stone C, Airhihenbuwa C. The Pan-University Network for Global Health: framework for collaboration and review of global health needs. Global Health. 2016 Apr 21;12:13.
Voigt M, Olbertz D, Hentschel R, Kunze M, Hagenah H.-P. Schiolz R, Wittwer-Backofen U, Hesse V, Straube S. Perzentilwerte für die Körpermaße neugeborener Drillinge - Ergebnisse der deutschen Perinatalerhebung der Jahre 2007-2011 unter Beteiligung aller Bundesländer. Z Geburtsh Neonatol. 2016; 220: 66-73.
Wittwer-Backofen U. Age Estimation using Tooth Cementum Annulation. In Bell L (ed) Forensic Microscopy for Skeletal Tissues. Methods in Molecular Biology. 2012; 915:129-143.
Grupe G, Christiansen K, Schröder I, Wittwer-Backofen U. Anthropologie – Ein einführendes Lehrbuch. Springer Verlag Berlin Heidelberg. 2012.
Krentz H, Voigt M, Hesse V, Guthmann F, Wittwer-Backofen U, Straube S. Somatic classification of Neonates Based on Weightfor-Length and Rohrer's Ponderal Index: Effects of Maternal BMI and Smoking. Geburtsh Frauenheilk. 2011; 71: 973-978.
Research methods
Tooth Cementum Annulation for age at death estimation
Forensic Facial Reconstruction
3D analysis of facial soft tissue