Bartos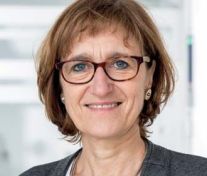 CV
1994 PhD Faculty of Biology / Technical University of Munich, Institute of  Zoology,  Germany
1995-1998 Postdoctoral Fellow  Faculty of Medicine, Department of Neuroscience, University of Pennsylvania School of Medicine, USA
2009-2010 Personal Chair Medical Faculty, University of Aberdeen, Institute of Medical Sciences, UK
2009 Lichtenberg Award of the Volkswagenstiftung
Since 2010 Full Professor (W3), University of Freiburg,  Institute of Physiology I, Systemic and Cellular Neuroscience Freiburg (SC-Freiburg)
Since 2015 Temporary head of Department of Physiology I
Focus of research
Neuronal basis of learning and memory
Cellular and synaptic mechanisms underlying depression and schizophrenia
Neuronal plasticity from mechanism to higher brain function
Selected publications
Biskamp J, Bartos M, Sauer JF. Organization of prefrontal network activity by respirationrelated oscillations. Sci Rep. 2017; 7:45508.
Elgueta C, Köhler J, Bartos M. Persistent discharges in dentate gyrus perisoma-inhibiting interneurons require hyperpolarization-activated cyclic nucleotide-gated channel activation. J Neurosci. 2015; 35:4131-4139.
Sauer JF, Strüber M, Bartos M. Impaired fast-spiking interneuron function in a genetic mouse model of depression. eLife 2015; 10.7554/eLife.04979.
Strüber M, Jonas P, Bartos M. Strength and duration of perisomatic GABAergic inhibition depend on distance between synaptically connected cells. PNAS USA. 2015; doi:10.1073/pnas.1423628112.
Hainmüller T, Krieglstein K, Kulik A, Bartos M. Joint CP-AMPA and group I mGlu receptor activation is required for synaptic plasticity in dentate gyrus fast-spiking interneurons. PNAS USA. 2014; 111:13211-13216.
Research methods
2-Photon in vivo population imaging in behaving mice
In vitro whole-cell multiple recordings of synaptically connected neurons
Single unit recordings in behaving mice