Becker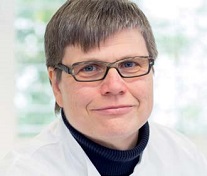 CV
1990 Master of Theology, University of Hamburg
1997 M.D., University of Freiburg
2005 Master of Arts in Christian Social Science, University of Freiburg
2006 Master of Science in Palliative Care, King's College, University of London
2007 Postdoctoral Lecture Qualification in Internal Medicine and Palliative Care, School of Medicine, University of Freiburg
2008 Board Certification in Internal Medicine
Since 2009 Director of "Online Master's Program in Palliative Care", University of Freiburg
Since 2012 Full Professor (W3) and Medical Director, Department of Palliative Care, Medical Center - University of Freiburg
Focus of Research
Quality of life
End-of-life-care
Selected Publications
Siemens W, Xander C, Meerpohl IJ, Buroh S, Antes G, Schwarzer G, Becker G. Pharmacological interventions for pruritus in adult palliative care patients. Cochrane Database Syst Rev. 2016; Vol 11pp.
Jors K, Adami S, Xander C, Meffert C, Gaertner J, Bardenheuer H, Buchheidt D, Mayer-Steinacker R, Viehrig M, George W, Becker G. Dying in cancer centers: do the circumstances allow for a dignified death? Cancer. 2014; 120:3254-60.
Becker G, Merk CS, Meffert C, Momm F. Measuring individual quality of life in patients receiving radiation therapy: the SEIQoLQuestionnaire. Qual Life Res. 2014; 23(7): 2025-2030.
Becker G, Hatami I, Xander C, Dworschak-Flach B, Olschewski M, Momm F, Deibert P, Higginson I, Blum HE. Palliative cancer care: an epidemiologic study. J Clin Oncol. 2011; 29(6):646-50.
Becker G, Blum HE. Novel opioid antagonists for opioid-induced bowel dysfunction and postoperative ileus. Lancet. 2009; 373:1198-1206.