Behrends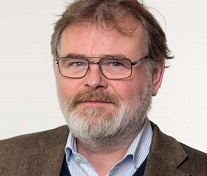 CV
1992-1993 INSERM-Fellowship, Institut Pasteur, Paris
1993 Fellow of the DFG, Max-Planck-Institute for Psychiatry, Martinsried, Dept. of Neurophysiology
1994-2002 Assistant Professor, University of Munich
2002 Habilitation (Physiology), University of Munich
Since 2003 Professor of Physiology (C3), University of Freiburg
Focus of research
Single molecule detection and characterization of synthetic and biological polymers with nanopores
Method development for electrophysiology and electrophysiological high-throughput analytics
Synaptic transmission, exocytosis
Selected publications
Baaken G, Halimeh I, Bacri L, Pelta J, Oukhaled A, Behrends JC. High-Resolution Size-Discrimination of Single Nonionic Synthetic Polymers with a Highly Charged Biological Nanopore. ACS Nano. 2015; 23;9(6):6443-9.
del Rio Martinez JM, Zaitseva E, Petersen S, Baaken G, Behrends JC. Automated formation of lipid membrane microarrays for ionic single-molecule sensing with protein nanopores. Small. 2015; 11(1):119-25.
Baaken G, Ankri N, Schuler AK, Rühe J, Behrends JC. Nanopore-based single-molecule mass spectrometry on a lipid membrane microarray. ACS Nano. 2011; 5(10):8080-8.
Baaken G, Sondermann M, Schlemmer C, Rühe J, Behrends JC. Planar microelectrode-cavity array for high-resolution and parallel electrical recording of membrane ionic currents. Lab Chip. 2008; 8(6):938-44.
Research methods
Automated, parallel elektrophysiology on synthetic membranes (Nanion Orbit-16, Orbit mini)