Bürkle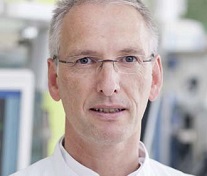 Focus of research
Perioperative analgesia
Analgesia and sedation management in critical illness
Simulation based training in anesthesia and critical care
Selected publications
Evidence and consensus based guideline for the management of delirium, analgesia, and sedation in intensive care medicine. Revision 2015 (DAS-Guideline 2015) - short version. DAS-Taskforce 2015. Ger Med Sci. 2015; 13:Doc19.
Wuesten R, Van Aken H, Glass PS, Buerkle H. Assessment of depth of anesthesia and postoperative respiratory recovery after remifentanil- versus alfentanil-based total intravenous anesthesia in patients undergoing ear-nose-throat surgery. Anesthesiology. 2001; 94(2):211-7.94(2):211-7.
Brodner G et al. Multimodal perioperative management—combining thoracic epiduralanalgesia, forced mobilization, and oral nutrition—reduces hormonal and metabolic stress and improves convalescence after major urologic surgery. Anesthesia & Analgesia. 2001; 92(6):1594-600.
Buerkle H, Yaksh TL. Pharmacological evidence for different alpha 2-adrenergic receptor sites mediating analgesia and sedation in the rat. British Journal of Anaesthesia. 1998; 81(2):208-15.
Buerkle H et al. Central and peripheral analgesia mediated by the acetylcholinesteraseinhibitor neostigmine in the rat infl amed knee joint model. Anesthesia & Analgesia.1998; 86(5):1027-32.