Coenen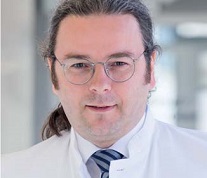 CV
2005 Consultant Neurosurgeon
2005-2008 Head of Division for Functional Neurosurgery, Department of Neurosurgery, University Hospital Aachen, Germany
2007-2008 Fellowship "Functional and stereotactic neurosurgery" Surgical Center for Movement Disorders, University of British Columbia, Vancouver, BC, Canada (Christopher R. Honey, M.D., D.phil.)
2008-2012 Professor (W2) of Stereotaxy and MR-based operative techniques, Department of Neurosurgery, University of Bonn, Germany
Since 2013 Full Professor (W3) of Stereotactic and Functional Neurosurgery, Head of Division of Stereotactic Neurosurgery, Medical Center – University of Freiburg,
Focus of research
Extending applications of Deep Brain Stimulation into the relam of Psychiatry
Imaging assisted Deep Brain Stimulation
Animal model approaches for the understanding of DBS
Selected publications
Coenen VA, Schlaepfer TE, Goll P, Reinacher PC, Voderholzer U, Tebartz van Elst L, Urbach H, Freyer T. The medial forebrain bundle as a target for deep brain stimulation for obsessivecompulsive disorder. CNS Spectr. 2016 Jun 8:1-8.
Schlaepfer TE, Bewernick BH, Kayser S, Mädler B, Coenen VA. Rapid effects of deep brain stimulation for treatment-resistant major depression. Biol Psychiatry. 2013; 73(12):1204-12.
Coenen VA, Panksepp J, Hurwitz TA, Urbach H, Mädler B. Human medial forebrain bundle (MFB) and anterior thalamic radiation (ATR): imaging of two major subcortical pathways and the dynamic balance of opposite affects in understanding depression. J Neuropsychiatry Clin Neurosci. 2012; 24(2):223-36.
Coenen VA, Schlaepfer TE, Allert N, Mädler B.Diffusion tensor imaging and neuromodulation: DTI as key technology for deep brain stimulation. Int Rev Neurobiol. 2012; 107:207-34.
Research methods
DTI tractographically assisted DBS (also psychiatric indications)
Optogenetics in the alive animal
Continous DBS in the freely moving rodent