Ehl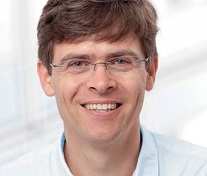 CV
1995-1998 PostDoc, Institute of Experimental Immunology, Zurich
1998-2002 Attending physician,  Center for Pediatrics, Freiburg
2002-2008 Attending physician, Center for Pediatrics, Medical Center – University of Freiburg
Since 2008 Full Professor (W3) and Medical Director, Center for Chronic Immunodeficiency (CCI) Freiburg
Since 2015 Speaker SFB 1160 "IMPATH", Freiburg
Focus of research
Genetic bases of immunodeficiency
Cellular bases of immunodeficiency
Clinical studies on the diagnosis and therapy of immunodeficiency
Selected publications
Speckmann C, Doerken S, Aiuti A, … Ehl S. A prospective study on the natural history of patients with profound combined immunodefi ciency: An interim analysis. J Allergy Clin Immunol. 2017; 139(4):1302-1310.
Ammann S, Schulz A, Krägeloh-Mann I, … Ehl S. Mutations in AP3D1 associated with immunodeficiency and seizures define a new type of Hermansky-Pudlak syndrome. Blood. 2016; 127(8):997-1006.
Fuchs S, Rensing-Ehl A, Pannicke U, … Ehl S. Omenn syndrome associated with a functional reversion due to a somatic second-site mutation in CARD11 defi ciency. Blood. 2015; 126(14):1658-69.
Stepensky P, Rensing-Ehl A, Gather R, … Ehl S. Early-onset Evans syndrome, immunodeficiency, and premature immunosenescence associated with tripeptidyl-peptidase II defi ciency. Blood. 2015; 125(5):753-61.
Bryceson YT, Pende D, Maul-Pavicic A, … Ehl S. A prospective evaluation of degranulation assays in the rapid diagnosis of familial hemophagocytic syndromes. Blood. 2012; 119(12):2754-63.
Research methods
Patient cohort combined immunodeficiencies
Patient cohort autoimmune-lymphoproliferative immunodeficiencies
Patient cohort haemophagocytic lymphohistiocytosis